My Friend Cindy
No one loved life more or used it so well

She was interested in everything, knew something about almost everything, and she cared about the important things.

Wherever she worked, in whatever neighborhood she lived, she knew the names of everybody's kids and all their animals.

In a mid-town New York restaurant she engaged in conversation as easily and with as much delight with the waiter as with the celebrity at the next table.

She was warm and funny; she could be sharp and funny but never mean spirited, never cruel.

The glow of sweetness in her face was surprising in one so strong; it is most evident in her photos, shining there, a light from her face.

She cherished her friends and had more than any one of us probably imagined. If a measure of one's life is the friends one leaves behind, then she set a gold standard.

She honored her father and mother in life and in memory.

She loved her animals, her students, her art, her books, places she'd been; a good dinner, a fine wine.

Kurt and Cherie were the lights of her heart.

Not a day will pass for the rest of my life that I won't miss her.
This poem was included in the program at the memorial for Cindy Poulson held at Milwaukee Repertory Theatre on Monday July 10, 2006, and on the blog established in her memory. It is included here at the request of several of her USITT friends.
Ms. Callen has been a friend of Ms. Poulson since their undergraduate days at Concordia College in Moorhead, Minnesota.
To Top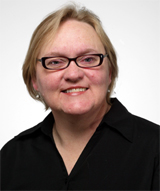 Cynthia Poulson
March 18, 1948-
June 27, 2006