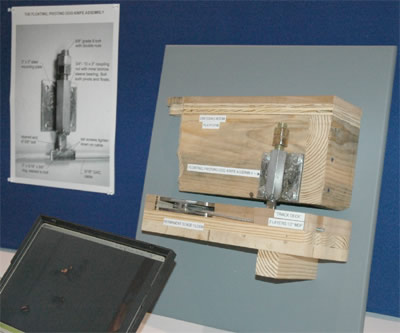 Projects like the Floating, Pivoting Dog-Knife Assembly, at the left, were part of the 10th Biennial Tech Expo exhibit in Toronto 2005.
What's the Big Idea?
Tech Expo wants to know that big idea! The 11th Biennial Tech Expo will be a featured part of the USITT Conference & Stage Expo in Phoenix next year, and organizers are again looking for good ideas.
Developed a unique device, process, tool, or technique? Found a creative use for a new (or old) material that others might find useful? Ideas from all facets of the entertainment industry are welcome: scenery, scenic art, costumes, properties, lighting, sound, stage management, etc. -- if it's a good idea, Tech Expo wants to show it to the world. Past exhibits have included a computerized clock, armor made from egg cartons, and self-propelled platforms.
Tech Expo is a juried exhibition and several of the accepted entries will receive special recognition and a modest cash prize. The application process is simple: put together an article of 500 to 1,000 words describing the entry and send it in along with two or three drawings or photographs and the application form.
Download the instructions here and the application here. They will also be available from the Conference web pages when they launch later this Fall on the USITT website. Winning entrants will be asked to prepare an exhibit to be displayed at the Stage Expo. The accompanying article will be published in the 2007 Tech Expo Catalog. For more information, contact Loren Schreiber, Tech Expo Committee chair, at 619-595-7711 or lschreib@mail.sdsu.edu.
To Top