Members can obtain topical and interesting industry publications at reduced prices from USITT. Check out some of the newest additions, including the 2006 Golden Pen Winner.
Miodrag Tabački by Gordana Popović Vasić and Irina Subotić
The design monograph about Serbian artist Miodrag Tabački includes many of his most evocative and creative works as a scenographer and costume designer. His designs have been widely produced and exhibited in many Central European countries and have won many awards, including a prestigious Prague Quadrennial honor in June 2003. Mr. Tabački is a professor at the Faculty of Dramatic Arts in Belgrade and the Vice-President of OISTAT's Scenography Commission.
Member Price: $200.00
To Top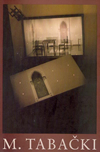 The Designs of Ming Cho Lee by Delbert Unruh
The Designs of Ming Cho Lee, the second book in the USITT monograph series, contains lovely illustrations of set models, renderings, and production photographs. The text discusses the major designs of this widely regarded and well known theatrical designer, mentor, and teacher. The story of his career is accompanied by a list of his production credits, awards and nominations, and memberships.
Member Price: $30.00
To Top


Click here to visit the online store and purchase these and other terrific publications now! To purchase by phone, call the USITT office at 800-938-7488.
Click here for a complete list of member discounts. For instructions on accessing a discount, select the item of interest and enter user name (USITT member number) and password (last name) at the prompt.
If you have questions or suggestions for a new benefit, contact Membership & Ad Sales Manager Michelle L. Smith at 800-938-7488 or michelle@office.usitt.org.
To Top