Emerald Anniversary for USITT DMX512
It may be hard to believe that DMX512 turns 20 years old this August. DMX512 is one of the most significant technology changes for the entertainment industry in the recent past, along with computer control and automated lighting.

DMX512 was conceived at the 1986 USITT Annual Conference in Oakland, California. Before DMX512, most manufacturers had their own dimmer control protocol that were proprietary and incompatible with other manufacturers' equipment. From that session, a project started that resulted in USITT DMX512 - Digital Data Transmission Standard for Dimmers and Controllers.
Minor revisions were made in 1990. The expectation was that manufacturers would continue to use their own proprietary protocols but when a user needed to mix manufacturers, the user would switch over to DMX512. DMX512 was intended to be a lowest common denominator protocol. Little did we know it would become the primary protocol and help transform the industry.

As DMX512 approached voting age, it was determined that DMX512 needed some updates, and the USITT DMX512-A project was established under the auspices of ESTA's Technical Standards program, where it would also become formally recognized as an American National Standard. On November 8, 2004, the ANSI Board of Standards Review approved ANSI E1.11 - Entertainment Technology - USITT DMX512-A - Asynchronous Serial Digital Data Transmission.

For more information on DMX512, please see http://www.usitt.org/standards/DMX512.html

Mitch Hefter is Task Group Chair of ESTA/USITT DMX512 Revision (ANSI E1.11) and USITT Engineering Vice-Commissioner, DMX512 Subcommittee Chair.
To Top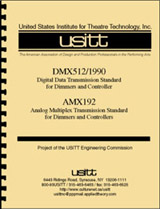 The original DMX 512/1990 standard is still available, including AMX 192.