USITT Art Auction & Garage Sale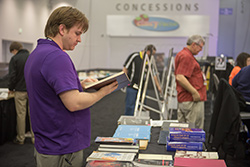 You will find many unique offerings at the upcoming Art Auction and Garage Sale. They include scripts, theatrical history, and "out-of-print" books for members looking for interesting books to round out their own collection or to find "hidden gems."
Thinking that more than a few Conference attendees might view of this booth as a depository of technology books, we wanted to make members aware of this year's unique collection. Imagine finding a copy of Morning Becomes Electra (1933), dedicated and signed by playwright Eugene O'Neil. Shoppers will find copies of the entire collection of O'Neil plays published from 1925-1928. All are early editions; some are first editions.
There are numerous other bibliography and historical books including Uda Hagen's Sources: A Memoir, an Oscar Brocket second edition of The Theatre: An Introduction, and Allardyce Nicoll's The Development of Theatre. There are also some unexpected gems such as a copy of Galileo: Stage Manager's script of Brecht's original production; a binder envelope containing The Complete Writings of Robert Edmund Jones, collected by Orville K. Larson, which contains a whole host of articles, including those that appear in The Dramatic Imagination. Other treats include a first edition/working script of Edna Ferber's Showboat a first edition 1890 copy of The Autobiography of Joseph Jefferson. Some other interesting titles include Gordon Rogoff's Theatre is Not Safe and a first edition of Women in the American Theatre by Helen Krisch Chinoy and Linda Walsh Jenkins.
This collection has been made possible by the expressed intention and estate of the late Bernie Works who passed away in November 2017. Bernie, a USITT Fellow, was one of USITT's most generous individual donors, having also fully funded two YT&D Awards. In addition, he was also an avid book collector and a man of varied interests, such as architecture and historical scenery — many German, French, and Italian. The collection also includes research books. Among these is a full collection of the works and biographies of past famous designers, including Leonardo da Vinci, Indigo Jones, Adolphe Appia, E. Gordon Craig, Lee Simenson, Norman Bel Geddes, Robert Edmond Jones, Donald Oenslager, Boris Aronson, Tanya Moiseiwitsch, and Jo Melziner.
Besides Bernie's collection, there will be many other items of interest to purchase and browse. Don't forget to thank the many dedicated USITT members that make events like this possible.
The Silent Auction bidding opens at 11 AM Thursday along with the Expo opening and will remain open throughout the week. Final bids are taken at 1 PM Saturday ---just prior to the closing of Stage Expo. Learn more about the USITT 2018 Art Auction & Garage Sale, here.