News & Notices
New Fellow Inductee: Travis De Castro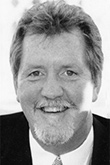 Travis De Castro began his working life as a professional stage manager. From the start of his career in New York, he made his mark stage managing for Radio City Music Hall, Broadway houses such as the Virginia and Marriott Marquis, Lincoln Center, Manhattan Theatre Club, and Madison Square Garden.
In addition, he worked at the Coconut Grove Playhouse, The Whole Theatre in New Jersey, the Opera Ensemble of New York, the Santa Fe Festival Theatre, the Pioneer Theatre, Salt Lake Acting Company, New Sharon Playhouse and Penn Centre Stage. He was on the road team for some of the initial tours of Annie, Cats, I Do! I Do!, and This is America among others.
Travis has been a long-time member of USITT beginning with his first national experience in 1993. From his first 'ad' venture into USITT as one of the first mentor-members of the Stage Management Mentoring Project (SMMP) at the Wichita Conference, to his many years of service as a member, commission member, section member, and board member, he has continued to give of his time and talent to USITT. He served as Vice Commissioner for the Management Commission, first National Special Events Coordinator for the annual Conference and the National Conference Committee until 2004. He was elected Treasurer of the Institute, most notably during the U.S. financial meltdown of 2007-2008, serving for six years.
He has presented, participated, or provided Conference programming for Wichita, Las Vegas, Fort Worth, Long Beach, New Orleans, and Minneapolis. In addition, his active participation in the USITT SMMP and continued advice and counsel to the SMMP and to the Management Commission have been important.
Following his rich freelance stage management career, he took a position at Penn State University School of Theatre using his background and connections and his continuing interest and contribution to the growth of the American theatre to benefit his students and colleagues alike sharing his knowledge as a theatre maker and guidance as a mentor. His accomplishments at Penn State include responsibility for bringing live streaming to productions, bringing the first hip-hop theatre productions, serving as Managing Director of Pennsylvania Centre Stage, serving on University Faculty Senate and serving on numerous committees such as President's advisory committee and college curriculum committee.
He is a proud union member of the theatrical unions AGMA and AEA as well as USITT and The Stage Managers' Association of the United States and is a wonderful addition to the USITT Fellows. I welcome him to the Fellows of USITT as a stage manager and as a fellow theatrical practitioner as well as a longtime contributor to the Institute.