News & Notices
Member Spotlight: Susan May Hawley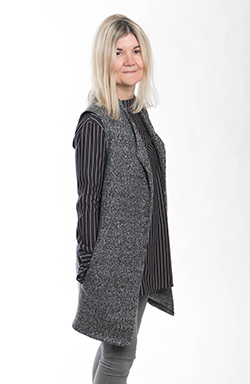 Q&A session with lecturer in stage management at the Royal Conservatoire of Scotland, Susan May Hawley.
Tell me about the Royal Conservatoire of Scotland
We have a school of music and a school of drama. Within those schools there are many and varied degree programs across the whole spectrum of performance and performance-related crafts.
The emphasis on conservatoire in this country is a practical-based course. When you come here, it is more practical-based than it is theory-based. If you go to a university you can expect to be heavy on the theory and perhaps not so much on the practical.
How did you get your start at the Royal Conservatoire of Scotland and what is your position?
My position at the Royal Conservatoire is lecturer in stage management. I was a stage manager for 22 years professionally before I came here. I toured internationally and nationally. I worked in repertory theatre, education, large-scale production, and ballet. I was the head stage manager of the Scottish Ballet for many years before coming to the Royal Conservatoire. It was about finding a way to diversify that still allowed me to do shows but perhaps took me out of touring. I always in the back of my head had teaching as something I would enjoy.
This job happened to come up while I was still the head of stage management at Scottish Ballet so I applied for the job, interviewed, and did a class for a group of students as well and they had to give feedback on me to the interview panel. I was successful and got the job which I'm delighted about. I've now been here almost six years.
Is this the first time you will be exhibiting at USITT?
No. I have been to USITT for the last five years. It is my third time doing a workshop. We are the only British Conservatoire that comes to USITT to do a workshop. The Royal Conservatoire spearheaded that, but I designed the workshop for us.
Can you tell me a bit about the workshop you'll be doing in Fort Lauderdale?
It's about the differences between British Theatre and American theatre in stage management. The two systems are quite different.
This year I'm also going to discuss working with the degree program at the Royal Conservatoire in BA Performance in British Sign Language and English. I've been doing quite a bit of research on my own as a lecturer alongside my stage management students and we're all learning together. This is the first of its type in Europe and a fantastic learning opportunity for both degree courses, it's a massive melting pot of creative thoughts and ideas and a fantastic opportunity. I thought it was interesting to bring these discoveries to USITT and share our work in progress in the workshop.
What is your goal when you come to USITT?
When I first came to Fort Worth it was my goal to network as much as possible with different universities and to get as many students to our table as possible. The second year I put forward the idea of doing a workshop because I thought, "There's no British Conservatoire or drama school doing this type of workshop. We could be the first to do this and it will bring the Conservatoire to a much wider audience."
The Stage Expo table is fantastic, but to have a workshop for people to be able to come and talk to me and interact and ask questions is great. What I found was that a lot of the students were coming to the table after the workshop to talk to me and we would take time and go into the café area and chat with them. Since then, a lot of the students have emailed me different questions that they've had.
We are getting a much wider audience and we are finding that our recruitment is going up as well. We've got current students coming from the back of USITT on our course. It takes time to build that up and we are starting to see the fruits of our labors.
What would you like attendees to take away from their experience with the Royal Conservatoire at USITT 2018?
Come to the table, talk about the development of the courses we're doing, and take away leaflets and literature. Sometimes we set up interviews and the students will get interviewed while they're at USITT.
For the workshop, come and get information that you're not getting anywhere else. USITT is geared towards what's happening in America. You've got a vast country with a vast amount of people from a vast amount of different states, but they don't have anybody speaking from a technical perspective from Britain. They're very different so I think attendees find the two very interesting. For instance, we "prop" in stage management in Britain and in America that doesn't happen. Little things like how we lay out a prompt copy and who calls the show is very different in Britain so the students find that interesting. It's about engaging. A lot of the students now I recognize and can say hello to and its lovely to build up that relationship.
Are those relationships what you look forward to most at USITT?
Yes, I think so. I enjoy going to see some of the other workshops and breakout sessions if I can get to them but I do really enjoy talking to the students and the staff. Sometimes a lot of the teaching staff comes to the workshop as well, but the students are the main focal point. They're the next generation and are going to take the industry forward. I like to hear what they've got to say and what they're doing.
What would you say to someone who is thinking about attending your session?
If they want to hear about different working practices abroad, it's a very useful session. I can promise if they do come, it will be informative and hopefully a fun session because I like to put a bit of humor into it as well. There are always questions and answers and I'm always willing, if the room is available, to sit and chat. It's an engaging session., I would say.
Suggest a USITT Member for the Spotlight!
If you know of USITT members whose work should be in the Spotlight, please feel free to suggest them. Contact Jenn Shuron at jenn@usitt.org.