News & Notices
New Fellow Inductee: Susan Tsu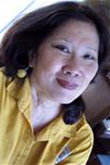 Susan Tsu is an ardent supporter of costume design, education, international connections, and an active member in USITT. Well-known for her designs for Godspell, she has a distinguished 45-year career with no signs of slowing down. Her awards include the Irene Sharaff Lifetime Achievement, NY Drama Desk, NY Drama Critics, NY Young Film Critics, LA Distinguished Designer and Carol Brown Established Artist Award. Her designs have been curated into exhibitions such as Curtain Call: Celebrating A Century of Women Designing for Live Performance at the Lincoln Center Library, and From Shakespeare to Sondheim at the McNay Art Museum. Susan's designs have appeared in major LORT theatres throughout the U.S. as well as in many books. She originated the designs for The Joy Luck Club, a benchmark collaboration between the Long Wharf and Shanghai People's Art Theatre, and The Balcony at the Bolshoi Theatre for the US-Soviet Cultural Exchange.
Recent design work includes Collaborators for Quantum Theatre; Gem of the Ocean and Shakespeare in Love for South Coast Repertory Theatre; and The Book of Will, Shakespeare in Love, and Twelfth Night for the Oregon Shakespeare Festival.
Susan spearheaded the costume programs at Boston University and the University of Texas at Austin before joining the School of Drama at Carnegie Mellon. She is Bessie F. Anathan Professor of Design, has been been given the distinction of University Professor, and is cited in Who's Who in Fine Arts Higher Education and Who's Who of American Women. Her students have frequently been honored with the Zelma H. Weisfeld Costume Design and Technology Award and graduates of her program are designing, assisting, and teaching across the nation.
While on the Board of Directors for Theatre Communications Group, Susan was on the task force that reconfigured American Theatre magazine. Based on her suggestion, the Production Notebook section of the magazine was instituted. Susan has been honored to serve on NEA granting committees, and to represent the U.S. at international conferences in China and Europe.
Susan's international involvement for USITT includes her work as curator, consultant, and Artistic Director for the USITT-USA exhibitions for the Prague Quadrennial between 2003-2015. Without her promotional determination, USITT would not have had the USITT-USA PQ Exhibit From the Edge tour nationally and internationally. Susan was a co-curator of the U.S. entries for Costume at the Turn of the Century: 1990-2015, enabling our members to be represented in this international exhibition, and is now serving as the Chief Curator for the upcoming 2019 Innovative Costume of the 21st Century: The Next Generation produced by the Bakhrushin Museum in Moscow. Acknowledging her international achievements, Pamela Howard selected her to be a keynote speaker at the OISTAT World Stage Design in Taipei, Taiwan, in 2017.
For this remarkable account of accomplishments, Susan has been elected for recognition as a Fellow in gratitude for her work on behalf of USITT, her distinguished design career, her leadership as an educator, and her passionate promotion and advocacy of internationalism, inclusion, and diversity in our discipline.