News & Notices
USITT's Jay O. Glerum Rigging Masterclasses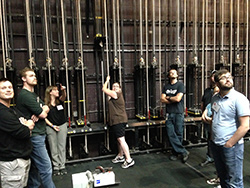 The USITT Jay O. Glerum Rigging Masterclasses will return this summer with entry, advanced, and new intermediate level tracks. The masterclasses honor the memory of one of the industry's great advocates for safety and training Jay O. Glerum.
The entry and intermediate level tracks will take place at the Dothan Opera House in Dothan, Alabama, June 4-5. While the entry track is geared towards students and educators, the intermediate track is for those familiar with rigging basics and safe operation of a counterweight system.
Registration for June masterclasses is now open.
Both advanced and entry level tracks will take place August 20-21, in Seattle, Washington. The advanced track will be taught for ETCP renewal credit and will include training on the latest innovations in rigging as well as advanced safety such as life rescue and other topics.
Registration for August masterclasses open May 1.
Learn more about Jay O. Glerum Masterclasses and register.
Jay O. Glerum Masterclass sponsors include JR Clancy, Promote Safe Sets (JR Clancy), ETC, and H&H Specialties.