International
Student Ambassadors Selected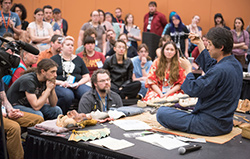 Three student ambassadors have been chosen for USITT 2018. They will join three international guests at the Conference where they will network, attend events together, and exchange ideas at a special luncheon.
Meet our 2018 student ambassadors:
Renata Orth for Agata Skwarczynska. Renata is a student of scenic design in the University of Wisconsin La Crosse Department of Theatre Arts and was inspired by Agata's dedication to her own style and vision as evidenced in everything she creates.
Lissette Velez-Cross for Carolina Jimenez Flores. Lissette is a recent graduate in stage management form Emerson College looking forward conversations about ways to unite her passion for theatre with that for her own culture and to find a reconciliation between the two.
Faith James for Chen Wenbao. Faith is completing her Bachelor's Degree in Fine Arts of the Performing Art in Theatre Design and Production, specializing in costume and scenic design at the University of Trinidad and Tobago. She designs and creates large wire sculptures that are a combination of scenic and costume design as representative expressions of her culture. She is very enthusiastic about Chinese theatre and is learning Mandarin to further her plans to go to China.