News & Notices
Christin Essin Stage Designers Book Wins 2015 Golden Pen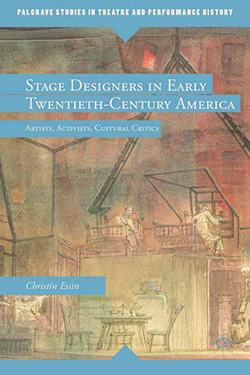 Christin Essin, with her 2012 book Stage Designers in Early Twentieth-Century America: Artists, Activists, Cultural Critics, has won USITT's 2015 Golden Pen Award.
Ms. Essin, assistant professor of theatre history at Vanderbilt University in Nashville, Tennessee, chronicled the impact of stage designers on the nation's visual culture as they emerged from backstage obscurity to become leading artists of the early 20th century.
"I wanted to write a history that appealed not only to scholars and theatre historians, but to design practitioners and educators whose legacy has such a direct and lasting impact on how we see and interpret American culture," she said.
Ms. Essin is a new member of the Publications Committee but was invited to join after her book had already been nominated. She was not privy to any award discussions and didn't know she won until the Board of Directors approved the Awards & Resolutions Committee's selection.
"I'm so excited!" she said of the award. "Being recognized by USITT is such an honor, and I'm thrilled to be able to share my work with this community."
Ms. Essin will receive the award at a special session at the Cincinnati 2015 Conference & Stage Expo. The book also will be available for purchase, and a book signing will be held at the Conference. A paperback edition will be available in April.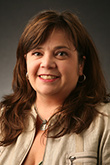 Ms. Essin started her research on early 20th century stage designers as part of her doctoral dissertation at the University of Texas - Austin where she was a student of 2010 Golden Pen winner Oscar Brockett (author of Making the Scene: A History of Stage Design and Technology in Europe and the United States with Margaret Mitchell and Linda Hardberger).
In her dissertation, she examined the work of designers Robert Edmund Jones (1887-1954), Norman Bel Geddes (1893-1958), and Joseph Mielziner (1901-1976). She showed how they "helped American audiences see everyday landscapes and exotic destinations from a modern perspective."
For the book, she expanded her research to include several other designers whose work influenced American modern culture through not only their stage design work, but as authors, critics, activists, entrepreneurs, and cartographers.
Mike Monsos, Chair of the Golden Pen subcommittee, called the book "a remarkable new foray into the study of New Stagecraft …The book focuses on many designers, some lesser known, who forged connections between theatre, the visual arts, and the cultural landscape in a brave new way."
Ms. Essin said she is "humbled to win the same award (Mr. Brockett) won with his collaborators a few years ago. His support and the mentorship of Charlotte Canning, my advisor, were significant in the success of this book."
The Golden Pen Award recognizes outstanding books on performing arts design and production. Previous winners include Richard Pilbrow's A Theatre Project (2013) and Deborah Nadoolman Landis's Dressed: A Century of Hollywood Costume Design (2009). Click here to nominate a book for next year's award.