News & Notices
Eyring Named 2015 Distinguished Achiever in Management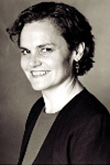 Teresa Eyring, the visionary executive director of Theatre Communications Group, will receive USITT's 2015 Distinguished Achievement Award in Management at the Cincinnati 2015 Conference & Stage Expo.
Ms. Eyring has led TCG, the national service organization for non-profit theatres, since 2007 and continues to expand its network of resident theatres, its publishing efforts, and its promotion of theatre as a force for social change.
Before TCG, Ms. Eyring spent 20 years in leadership positions at the Guthrie Theater and the Children's Theatre Company in Minneapolis, Minnesota, and the Wilma Theater in Philadelphia overseeing successful building campaigns at all three. She has always worked to make theatre and the arts more central in community life. When Ms. Eyring left Philadelphia, then-Mayor Ed Rendell gave her a Liberty Bell statue to honor her accomplishments. On her last day at the Children's Theatre Company, Mayor R.T. Rybak named March 5, 2007 "Teresa Eyring Day" in Minneapolis.
David Stewart, Management Commissioner who nominated her for the award, worked with Ms. Eyring at CTC 15 years ago and participated in TCG's 2014 Conference, Crossing Borders.
"Her views on diversity and inclusion are vast and wide, and she doesn't back down from the challenges that come with these topics," he wrote.
Ms. Eyring grew up in Baltimore with arts-loving parents and saw her first Broadway shows – Promises, Promises and Butterflies Are Free – at age 10.
In high school she tried drama club, but wasn't drawn to stage or shop. Then, in college at Stanford University, an advisor suggested she try theatre classes. She majored in international relations, but ended up minoring in theatre, including studying Scandinavian drama in Denmark.
"I became passionate about the role art plays in history," she said. "It's so powerful how what happens in theatre either reflects or directs our times."
After graduation, she lucked into a job as development director at the cutting-edge Woolly Mammoth Theatre in Washington, D.C. "That's where I discovered there was such a thing as arts administration and that was what I wanted to do!" she said.
She earned an MFA in arts administration at Yale School of Drama while helping run Yale Repertory Theatre from 1986-89. Then Guthrie Theater Executive Director Ed Martenson hired her as his assistant and put her in charge of a $5 million building renovation. "I learned to deal with people with a range of expertise, people who knew much more than I did about most things, and that I could express my leadership by celebrating the expertise around me and really tapping into it," she said.
Her success led to a job as managing director of the Wilma, where she helped revive a stalled $8 million capital campaign and built a new theatre. Five years later, she became managing director of CTC with the mission of – guess what? – running a $30 million capital campaign and building a new theatre facility.
Since joining TCG, she has seen its member theatres top 500 despite a recession, and its publishing efforts grow well beyond its award-winning magazine, American Theatre. TCG has become a key advocate for the arts on many issues, including the whitespaces issue --proposed FCC policy changes regarding the broadband spectrum affecting wireless mics-- and maintaining a strong National Endowment for the Arts.
Her most passionate views fuel TCG's renewed emphasis on theatre's role in social change. TCG's new strategic plan embraces equity, diversity, and inclusion with programs including a demographic survey, REPRESENT, to chronicle and raise awareness of how theatre-makers and staff self-identify; the Legacy Leaders of Color Video Project, a series of mini-documentaries on theatre founders of color; and a Diversity & Inclusion Institute with 21 theatres joining forces to work for change.
Said Ms. Eyring, "We believe it's important for theatre not to replicate the weaknesses that exist in modern society, but to model a new way forward. Our motto is 'a better world for theatre, a better world because of theatre.'"