News From
Contributing Members
Studio Gear: Upgrades Membership
We appreciate the increased level of support that Studio Gear is providing to the Institute by upgrading its membership to the Contributing level. Studio Gear, based in Milwaukee, Wisconsin, provides audio, video, and lighting equipment rentals, sales and installation
To learn more, visit them at www.studiogear.net.
Vincent Lighting Systems: Launches New Web Store
Vincent Lighting Systems (VLS) recently launched a new web store at shop.vls.com. Completely redesigned from the ground up, the new shopping platform offers expanded descriptions, more powerful search results, and lower prices on its most popular items.
"With the convenience of shopping for lighting and scenic supplies at any time of the day or week, we're confident that our customers will find our new site easy to navigate, with many items still being added. Online customers can have their order shipped or pick it up from our Cleveland, Cincinnati or Pittsburgh locations," commented John Conley, product manager. "An added bonus of this store is that existing VLS customers with approved terms can buy using purchase order numbers instead of credit cards. We can set them up easily, so that they can log in and use our site to place orders."
Marketing Director Kim Craigie added, "We look forward to our web store providing easy access to our products; of course, our customers are always welcome to contact us in whatever method they wish: online, email, phone, fax or even by regular mail. We appreciate their business, and we hope our new store offers yet another method for us to provide them with complete lighting solutions."
Meyer Sound: Constellation System Transforms Newport PAC
The Newport Performing Arts Center (PAC) in Oregon recently installed a Meyer Sound Constellation acoustic system in its 398-seat Alice Silverman Theatre.
With the upgrade, the venue joins the likes of Moscow's Svetlanov Hall, The Appel Room at Jazz at Lincoln Center, and more than 50 other prestigious venues that rely on the variable acoustics of Constellation to deliver an extraordinary live experience.
"The result of Constellation is subtly but fundamentally transformative for both audience and performer," said David Ogden Stiers, resident conductor for the Newport Symphony Orchestra (NSO), who has more than 20 years of experience at the PAC. "We have gone from an okay performance space to an actual, audible concert hall. Frankly, I was skeptical about the system at first but am now totally won over."
At the core of Newport's Constellation system is a D-Mitri digital audio platform that hosts all system I/O, signal processing, and control logic. The room's acoustic is picked up by 18 miniature condenser microphones and processed by patented VRAS algorithms to deliver early reflections and reverberation to the room. This tailored acoustical enhancement is delivered using 40 Stella-4 installation loudspeakers, 26 MM-4XP self-powered loudspeakers, two CQ-1 loudspeakers, 10 HMS-10 surround loudspeakers, with low end from four MM-10XP subwoofers and two 500-HP subwoofers. When needed, a Meyer Sound reinforcement system uses the CQ-1 and HMS-10 loudspeakers and 500-HP subwoofers in addition to one UPA-1P and two UPJunior VariO loudspeakers. The integrated systems provide tremendous flexibility to support acoustic, reinforced, and cinema events. An Apple iPad provides an easy-to-use interface for the system operator to change settings.
The audio systems were designed and installed by Eugene, Oregon-based George Relles Sound.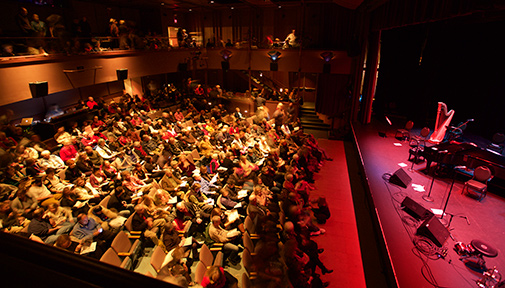 Production Resource Group: Acquires Chaos Visual Productions
Production Resource Group LLC, (PRG) acquired Chaos Visual Productions, headquartered in Burbank, California, with an office in Bedfordshire, United Kingdom.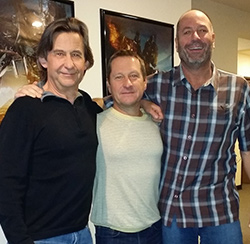 Chaos provides full service video production for live events. Both PRG and Chaos have built a solid reputation in the industry for combining innovative technology with an international team of highly experienced industry professionals.
"Chaos Visual Productions will be joining forces with PRG Nocturne," said Mickey Curbishley, CEO, PRG Concert Touring. "It is very exciting to consider the creative and technical solutions that will result from this acquisition which brings together the world's two most innovative touring video companies. It also creates a single team of the most respected, experienced, and talented minds working in video production today."
Through this acquisition, PRG increases its industry-leading expert production talent pool with industry veterans John Wiseman, Nick Jackson, Marty Wickman, and Valdis Dauksts, who will work alongside Bob Brigham and Ron Proesel of PRG Nocturne.
For more information, go to www.prg.com.
Creative Stage Lighting: New Services, New Products
"Give us your tired, your broken, your decommissioned assets yearning to shine brightly again." That's what Creative Stage Lighting is saying to lighting and production companies with its launch of CSL Service and Repairs.
With the trained technicians at Creative Stage Lighting, production companies can give new life to their production and rental inventories. With regular maintenance and repair, CSL will help keep expensive equipment investments in tip-top shape. CSL technicians are factory trained in High End Systems, VMB Pro Lifts, JB-lighting, Avolites, Vari-Lite, Martin, and Columbus McKinnon, and offer repair and maintenance services on a wide selection of stage instruments. For more information, call 518-251-3302 or visit creativestagelighting.com/service.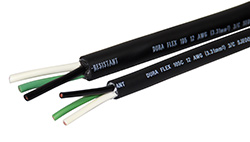 The company also added to its Dura-Flex line which now includes 12/3 SEOOW and 12/3 SJEOOW portable power cords using a Seoprene jacket.
The new cable varieties are more flexible and weigh less than conventional Neoprene entertainment industry cable, making them even easier to handle and less expensive to ship. The UL listed cables meet RoHS requirements, feature a wider temperature range of –50ºc to 105ºc, and can take on the harshest environmental conditions.
Dura-Flex cable is available through Creative Stage Lighting's Dealer Network. For more information. visit creativestagelighting.com or dura-flex.com, or call 518-251-3302.
ZFX Flying Effects: Schumacher Returns to the Fold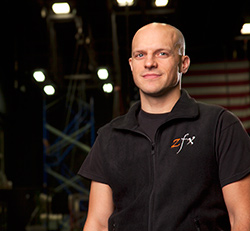 ZFX Flying Effects (www.zfxflying.com), the most Zealous flying company in the galaxy, announced that Jason Schumacher has returned to the company to take on the general manager position. He will oversee management at ZFX in an effort to continue the company's goal of worldwide domination of the performer flying industry, with galactic domination to follow.
Mr. Schumacher brings extensive experience in performer flying and the entertainment industry to ZFX. In addition to incorporating flying into over 300 productions as a flying director, he has worked as a film producer and stunt coordinator. He has brought three films to market with Warehouse District Productions, where he honed skills in managing both creative and technical processes in dynamically changing environments. After time spent in New York City and Nashville, Tennessee, he said he is excited to return to Louisville and ZFX.
Founded in 1994, ZFX, Inc. is the complete service provider for flying effects. They don't just handle the rigging or flying harnesses. They're not just skilled at automation, choreography, and flying design. ZFX covers every aspect of flying possibilities.
ETC: 2015 CUE Slated June 26 through 28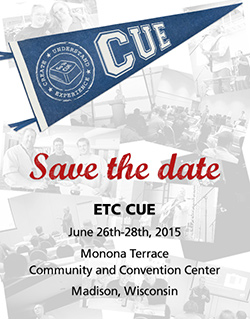 ETC is gearing up for its biennial CUE professional development conference June 26 to 28 in Madison, Wisconsin. Early bird registration is open until February 28. ETC also offers several sponsorships to help offset the cost of the conference, transportation and/or lodging.
The CUE conference is a great way for lighting professionals of all skill levels to gain knowledge and gives students the opportunity to get hands-on experience with the technology they'll use when they enter the workforce. At CUE 2015, ETC will offer two special tracks: a Technical Theater Continuing Education track geared toward students and educators, and a Console-Training and Certification track for programmers – from beginners to the most advanced – to improve their knowledge of Eos- and Cobalt-family lighting systems.
The CUE conference will feature interactive classes on a variety of topics led by ETC employees and industry luminaries, including several surprise guests. Attendees will have a lot of time to experiment with existing gear and get an inside look at upcoming products. CUE will also allow attendees to network with industry peers and the ETC professionals behind the company's award-winning products. ETC will host several events and tours of its legendary factory.
More information about the CUE professional development conference can be found at www.etcconnect.com/CUE.