News & Notices
Schmidt Named Distinguished Scene Designer, Subject of New Book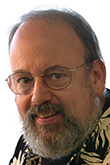 Acclaimed Set Designer Douglas W. Schmidt has three reasons to look forward to USITT 2015:
He's getting the Distinguished Achievement Award in Scene Design.
He's the subject of USITT's latest book, The Designs of Douglas W. Schmidt, to be launched at the Conference.
The event takes place in his hometown of Cincinnati.
"It's particularly great because Cincinnati is where I started my career," he said. "My first professional design job was at the Playhouse in the Park. I had nothing on my agenda for the summer, so I walked in and introduced myself to Brooks Jones. He said, 'What are you doing?' I said, 'I'm just here.' He said, 'Want to design a show?'"
Fifty years later, Mr. Schmidt has designed 57 Broadway shows and dozens of regional productions for the Guthrie, The Old Globe, The Alley Theatre, and Seattle Rep, among others. He has three Drama Desk Awards, two Tony nominations, an Obie, and many other awards.
Lighting Designer/Production Manager Barry Cleveland, who wrote the new monograph with his wife, costume designer Annie Cleveland, nominated Mr. Schmidt for "his indefatigable contributions enhancing the world of stage design."
The Clevelands also wrote the 2011 Designs of book about Mr. Schmidt's good friend, Costume Designer Carrie Robbins. He said the authors were "dogged" in chronicling his work, from his early years as Ming Cho Lee's assistant in 1964, to his Broadway triumphs in the late '60s and '70s -- with such shows as Grease (1972), Over Here (1974), and They're Playing Our Song (1979) -- to recent work in regional theatre, opera, and dance.
Mr. Schmidt grew up with a love for theatre and did magic shows at birthday parties as a kid. He went to Boston University with acting in mind, until he saw that actors greatly outnumbered designers. "I figured the most attention and work I would get would be as a designer," he said. "It turned out to be a fortuitous -- I'd like to say prescient -- move, but it was more like self-preservation.'"
His work with Brooks Jones and Ming Cho Lee led him to two New York repertory companies, Lincoln Center Rep and John Houseman's The Acting Company, and two decades of Broadway work. In 1980-81, he designed what he calls "the notorious Frankenstein," which closed after one night. Heartbroken and "burned out," he accepted a job in San Francisco and fell in love – with the city and his partner, Stephen Martin.
He has juggled multiple projects since, and several – such as Damn Yankees (1994) and the revival of Into the Woods (2002) -- went to Broadway or toured widely.
Although known for a willingness to collaborate and take risks, he said there is no Douglas W. Schmidt "style."
"I go with the flow, and, whatever the production demands, I try to fulfill," he said. "I've never been successful at having a vision that works for everything. And I never get a concept when I am reading the script. What happens is, I immediately draw a blank and say, 'I can't do this. I have no idea.' But you just work on it until you get there."
His current challenge is a touring production of The Sound of Music to open in Los Angeles next fall. "The show is so indelibly stamped with past productions that it's hard to do something unique," he said. "Oliver Smith was a genius, he hit that one out of the park. So right now I am struggling. But I've got a year."
Mr. Schmidt will receive the Distinguished Achievement Award in Scene Design at a special session on his work March 20, and will participate in a panel discussion with other award winners that morning. He'll also do a book-signing for The Designs of Douglas W. Schmidt, which will be available at the Conference.