News & Notices
Fort Lauderdale Picked for USITT in 2018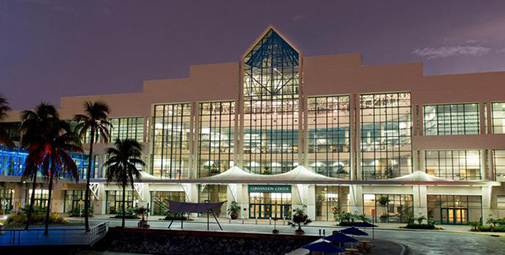 USITT will stage its major event for 2018 in sunny Fort Lauderdale, Florida. The USITT Annual Conference & Stage Expo will fill all three floors of the Greater Fort Lauderdale-Broward County Convention Center from March 14 to 17.
Jack Feivou, USITT Vice President for Conferences, said every inch of space in the Convention Center will be committed to Institute activities, and a nearby cruise ship port offers prospects for tours and programming which are already being explored.
USITT has locked in hotel rates for the Hilton Fort Lauderdale Marina, across the street from the convention center; the Hyatt Regency Pier 66, across the bridge from the center, and the Renaissance Fort Lauderdale, just two blocks away.
"It's time to get back to a warm conference," Jack said. "When you're in South Florida, there is always an opportunity to step outside," either to go to a restaurant, or a tour, or one of the numerous evening activities in the area. The Broward Center for the Performing Arts with its wide array of presentations, the Museum of Art, the Swimming Hall of Fame, and outstanding beaches offer choices outside the Conference day.
Access to the 2018 event will be easy, with the Fort Lauderdale airport only minutes from the waterside location. In addition, both the Miami and West Palm Beach airports are within an hour's drive, providing numerous options.
With the 2016 event in the west (Salt Lake City), and 2017 planned for centrally located St. Louis (March 8 to 11 at America's Center), Jack said 2018 is a perfect time to return to the East Coast.
"Since the Stage Expo and session programming are both growing, finding the perfect fit at the perfect time in March makes Fort Lauderdale a solid choice for the organization," he noted. Planners are already excited at the new opportunities opening up for 2018.