News & Notices
Announcements
New OSHA Workshop Added in Cincinnati

USITT, the IATSE Craft Advancement Program committee, and the IATSE Entertainment and Exhibition Industries Training Trust Fund will present an OSHA 10/General Entertainment Safety training before the 2015 Annual Conference & Stage Expo in Cincinnati, Ohio. The training, held Monday, March 16 and Tuesday, March 17, covers OSHA policies, procedures, and standards as well as general industry safety and health principles. Topics include scope and application of the OSHA general industry standards. Special emphasis is placed on those areas that are the most hazardous using OSHA standards as a guide. The OSHA 10/General Entertainment Safety course was customized for the IATSE Entertainment and Exhibition Industries Training Trust Fund and uses examples from the entertainment Industry.
This course will be led by the same nationally and internationally recognized trainers that developed the customized training and conduct it for the Training Trust Fund. Joe Aldridge, Alan Rowe, Kent Jorgensen, and Eddie Raymond of the IATSE Craft Advancement program will bring their cumulative experience and knowledge to present this entertaining and informative training.
This course is offered at a greatly reduced rate. Members of USITT and members of IATSE can register for only $50. For non-members, the cost is $75. Space is limited. USITT members and non-members can register online. IATSE members should contact USITT at 800-938-7488 to register at the reduced rate.
Student Competition Wrapped in Mystery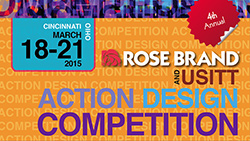 Rose Brand is accepting applications through February 23 for the 2015 Action Design Competition to be held at the USITT 2015 Conference & Stage Expo. Apply online now.
What started out as an idea from a Rose Brand employee has turned into one of the best USITT memories for students who attend.
Four student-teams of designers and technicians will compete to design a scenic environment under this year's mystery theme. Participants have no prior knowledge of the theme, what supplies will be available, or who they're working with. Team members need to make the best of their mystery supplies, and will have less than four hours to design the ultimate display in the Stage Expo.
Winners take home unique prizes, gift bags, and bragging rights for the year to come. Prizes are awarded to the winning team and best individual contributors.
Show off skills by submitting an application. Application information is available on the Rose Brand Website. Also, like Rose Brand on Facebook to view the latest news on the competition!
Lights! Camera! Action! at Hollywood Costume Exhibit
The words "costume exhibition" don't promise a lot of drama and bring to mind costumes imprisoned in Plexiglas cubes under bland, eco-friendly display lighting accompanied by boring vital statistics in hushed museum halls.
A visit to the recently opened Hollywood Costume exhibition at the Los Angeles County Museum of Art (LACMA), which runs through March 2, turns the usual museum visit on its ear. Housed in the in the historic Wilshire May Company Building, the future location of the Academy Museum of Motion Pictures, the exhibit is curated by Deborah Nadoolman Landis, Academy Award-nominated costume designer and founding director of UCLA's David C. Copley Center for the Study of Costume Design, She won the USITT Golden Pen Award in 2009 for Dress: A Century of Hollywood Costume Design.
Costume designers rarely get the recognition they deserve. The public assumes that costumes can be found at the local mall. This exhibition is a narrative that defines the pivotal role of the costumer in the creative process. Divided into four sections, the first exhibit examines the '70s costumes in Argo and the costumes in the Bourne series. Exhibit room two explores in depth the relationship between director and costume designer. High-definition interactive video tells the story of each costume from napkin sketches to final construction. Every step of the process is meticulously displayed on acrylic projection
The creativity of lighting and presentation combines with the story of the costumes to provide a new museum experience.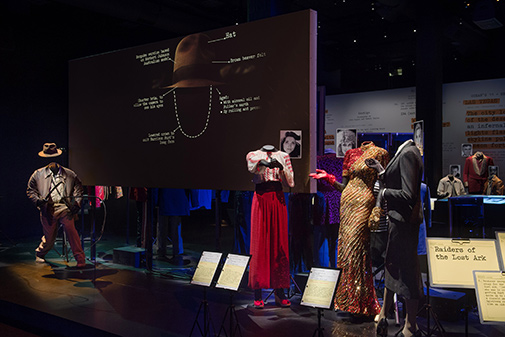 Berlin Focus for International Trade Fair
Exhibitors and trade visitors from around the world will take part in Stage|Set|Scenery, the trade fair for theatre, film, media and event technology June 9 to 11 in Berlin, Germany.
Stage|Set|Scenery targets the industry's forward-looking international markets. Its partnership with international associations and close cooperation with Messe Berlin's international representatives helps attract a growing number of international exhibitors. Recent partnerships include the International Organization of Scenographers and the International Organization of Scenographers, Theatre Architects and Technicians (OISTAT). OISTAT presents the Theatre Architecture Competition (TAC) awards. Other industry associations include the OETHG from Austria, SVTB-ASTT from Switzerland, USITT, STEPP from Belgium, STFF from Sweden, and ABTT from the United Kingdom. CETA, the industry association from China, and VPT from the Netherlands have added their names to the list.
Exhibitors from 17 countries – Austria, Belgium, Canada, China, the Czech Republic, Finland, France, Germany, Italy, the Netherlands, Poland, Switzerland, Serbia, Spain, the UK, and the USA -- have registered.
Stage|Set|Scenery is held in collaboration with Deutsche Theatertechnische Gesellschaft e.V. (DThG), which organizes the International Stage Technology Conference, an integral part of the event in the display halls.
Phoenix Museum Adds Fashion Collection to Holdings
Phoenix Art Museum recently acquired the "Emphatics" archive, a rare collection of avant-garde contemporary fashions collected by James and Karin Legato.
The Legatos spent decades building and curating "Emphatics," (one of the country's premiere designer retailers located in Pittsburgh, Pennsylvania). After 50 years of operating the exclusive boutique, they decided to close the store and offer the collection to Phoenix Art Museum for purchase. A group of dedicated patrons came together to support this landmark acquisition.
The "Emphatics" archives include more than 400 iconic fashions and accessories by world renowned designers such as Alexander McQueen, Issey Miyake, Thierry Mugler, John Galliano, Romeo Gigli, Christian Lacroix, Alaia, and Jean Paul Gaultier. The archive also includes rare photography and videos of the designers' fashion shows, original runway show invitations, and other ephemera.
"The Emphatics archive represents the most forward thinking designers working in the '80s and '90s, a very fertile period in fashion," explained Dennita Sewell, the museum's curator of fashion design.
Pilbrow to Kick Off PLASA Educational Seminars
Richard Pilbrow -- USITT Fellow, lighting designer, theatre design consultant, and author – will kick off the educational seminar program of PLASA Focus: Orlando 9 a.m. Tuesday, February 17 with "Light and Theatre – 50 Years of Change." Free registration to both the show floor and educational seminars can be obtained at www.plasafocus.com/orlando.
Mr. Pilbrow founded Theatre Projects in 1957 and has produced theatre, film, and television. He was a stage lighting pioneer in Britain and was retained by Sir Laurence Olivier to be first lighting designer and then theatre consultant to the National Theatre of Great Britain. He was a founder of the ABTT, the ALD, and the STC. His books Stage Lighting (1970) and Stage Lighting Design - the Art, the Craft, the Life (1997) have become international texts. His 2011 book, A Theatre Project, was 2013 winner of the prestigious USITT Golden Pen Award. Under his leadership, Theatre Projects has become the pre-eminent theatre consulting organization in the world with more than 1,200 projects in over 70 countries to its credit.
Additional seminars will be given by such experts in the industry as Josh Allen (Theatre Consultants Collaborative), William R. Benner, Jr. (Pangolin Laser Systems), Frank Brault (Vectorworks), Scott Chmielewski, George Dodworth (Lightwave International), Dan Goldsmith (X-Laser), Tony Hanson, Tom Harman (Laser Production Network), Jim Hutchinson (CHAUVET Professional), Christine Jenkin (ILDA), Mark Kiracofe (IATSE), Brian Lawlor (IATSE), Tom Littrell (ETC), Greg Makhov (Lighting Systems Design Inc), Tobin Neis (Barbizon) and Geoff Platt (TMB).
Montreal Site of New CITT Trade Show
ExpoScene, to be held March 26 and 27 in Montreal, Canada, is a new trade show produced by CITT that covers all areas of the pro audio, lighting, production and video markets. Housed at the Palais de Congres, sound and lighting companies, systems contractors, theatres, night clubs, concert venues, acoustic consultants, AV companies, pro audio dealers, concert promoters, festivals, educators, government buyers, lighting contractors and consultants, recording studios, record producers, and video producers and broadcasters will attend.
ExpoScene will be marketed aggressively to the Canadian marketplace by CITT's Media Partner, Norris-Whitney Communications, publishers of Professional Sound and Professional Lighting & Production.
There are only a few spaces left for companies eager to expand their market share of the Canadian production market.
PLASA Public Reviews
2015 is shaping up to be a busy year for PLASA's Technical Standards Program, with eight standards being offered for public review. Available drafts include three from the Rigging Working Group, two from the Photometrics Working Group, and three from the Control Protocols Working Group.
Five standards are available for review through March 2:
BSR E1.4-1-201x, Entertainment Technology - Manual Counterweight Rigging Systems applies to permanently installed, manually operated systems of stage rigging hardware for the raising, lowering, and suspension of scenery, lighting, and similar loads.
BSR E1.17-201x, Entertainment Technology Architecture for Control Networks is a suite of documents that specifies an architecture, protocol, and language that may be combined with other protocols to form flexible, networked audio, lighting, or other control systems. Changes to the existing standard only affect EPI 19, ACN Discovery on IP Networks, which was revised to work more efficiently.
BSR E1.37-5-201x, General Purpose Messages for ANSI E1.20, RDM provides additional Get/Set parameter messages (PIDs) for use with the ANSI E1.20 Remote Device Management protocol.
BSR E1.43-201x, Entertainment Technology - Performer Flying Systems establishes a minimum level of performance parameters for the design, manufacture, use, and maintenance of performer flying systems used in the production of entertainment events. The purpose is to achieve the adequate strength, reliability, and safety of these systems to ensure safety of the performer under all circumstances.
BSR E1.50-201x, Entertainment Technology - Safety Requirements for LED, Video & Display Systems covers LED and other self-illuminated video display structures used as part of the scenery in concerts, theatre shows, and special events and will include advice on planning and site preparedness, assembly and erection, suspension and safety of components, special access requirements, and the use and dismantling of these systems.
Available through March 9 are:
BSR E1.54-20xx, PLASA Standard for Color Communication in Entertainment Lighting which specifies a standardized color space and defines the locations of the RGB primaries and the White Point to facilitate communication between lighting controllers and color-changing luminaires. It offers a standardized way of specifying color that is generic and is neither manufacturer-specific nor color technology-specific.
BSR E1.55-20xx, Standard for Theatrical Makeup Mirror Lighting applies to lighting systems for mirrors and stations used by performers and make-up artists for applying make-up to performers in theatres and other performance venues. It describes the topology of the make-up mirror lighting system, the quantity of light, the distribution of light from those sources, apparent source size, brightness, color rendering, and correlated color temperature.
ANSI E1.30-4 - 2010, EPI 26. Device Description Language (DDL) Extensions for DMX512 and E1.31 Devices is being considered for reaffirmation through March 16. It is a part of BSR E1.30-201x, Application level equipment interoperability for control of commonly encountered entertainment technology devices using ANSI E1.17. This part defines protocol-specific extensions to ANSI E1.17's Device Description Language for describing DMX512-type devices
For more information, contact Karl G. Ruling, PLASA Technical Standards Manager, 630 Ninth Avenue, Suite 609, New York, NY 10036; standards.na@plasa.org; 1-212-244-1505
Still a Chance to 'Cover the Walls'
The deadline to apply to take part in Cover the Walls has been extended to February 21.
The non-juried event showcases the work of current USITT members from all aspects of design, technology, the crafts and artwork in general during Stage Expo. It provides an opportunity for members to share their design work with fellow theatre artists and provides a forum to exchange ideas and approaches to design.
Apply here. For more information, contact Douglas Gilpin, Cover the Walls Committee Chair, at 870-230-5338 or gilpin@hsu.edu.