News From:
Sustaining Members
Members Upgrade to Sustaining
Children's Theatre of Charlotte has renewed its membership and upgraded to the Sustaining member level. International Association of Lighting Designers (IALD) and SSRC also upgraded to Sustaining.
New Sustaining Member
We welcome SUNY Oswego's Theatre Department as a new Sustaining member of USITT. Jessica Heester, chair and associate professor, is the contact for the organization, which offers at least four major productions during the academic year staged in Waterman Theatre (a 500-seat proscenium theatre) and a flexible lab space, plus participates in many national and regional activities. Find out more at www.oswego.edu/theatre.
Cable Protectors Offer Added Traction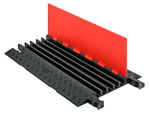 Checkers Industrial Products, Inc. now offers Guard Dog cable protectors with added traction. They are now available with optional anti-slip rubber pads for use on smooth surfaces. Protect electrical cables and hoses from damage while providing a safe crossing for vehicle and pedestrian traffic. Hinged lid allows easy access to cables/hoses. Easy to set up, disassemble, and store. Checkers now offers optional traction kits for a large variety of its cable protectors. For more information, visit www.checkersindustrial.com.
Firm Installs Scenery Equipment on Cruise Ship
Royal Caribbean International's newest ship, Allure of the Seas (sister ship to Oasis of the Seas) features a production of Chicago: The Musical. Scenery movement for the show is facilitated by Serapid Inc.'s SCT Silent Rigid Chain system which pushes a large band stand wagon across the stage.
In addition to the equipment for Allure's production of Chicago, a number of SERAPID LinkLift columns and SCT Rigid Chain systems will be installed in other theatres aboard, including Studio B, the ships ice skating rink.
For more information about Serapid's stage engineering solutions for theatres, performing art centers, cruise ships and multi-purpose venues, visit www.serapid.us; or call 800-663-4514 toll-free or direct at 586-274-0774; or e-mail info-us@serapid.com.
Solaris Quasar Strobes Brighten Strictly Come Dancing
Series 8 of the BBC One hit show Strictly Come Dancing closed October with a Halloween theme featuring virtual lightning bolts, ghosts, goblins, and the finest amateur dancers in the United Kingdom. To add some real punch to his lightning effects, lighting designer Mark Kenyon specified Solaris Quasar 15k high-powered strobes, exclusively distributed worldwide by TMB.
Solaris professional strobes represent the next level in strobe technology. Models from 35 watts to 85,000 watts are available. The mighty 85,000 watt Solaris T-Light has recently featured in events such as the 54th Eurovision Song Contest, and tours by AC-DC, Kings of Leon, Lady Gaga and Rammstein.
TMB is worldwide exclusive distributor for Solaris: www.tmb.com/products/solaris. Learn more about many other exciting and innovative products from TMB at www.tmb.com.
Staging Concepts Presents New, Mobile Choral Riser
Staging Concepts Inc. announced a new addition to its line of high quality performance products —the rolling and folding SC Choral Riser. The versatile SC Choral Riser can be arranged in either straight or half-round configurations and will create an ideal performance environment at a moment's notice with its easy set up and mobility. Because of a lift assist, the SC Choral Riser can be unfolded into a performance configuration and folded to its storage position by just one person, no tools required.
For more information on the SC Choral Riser, contact Staging Concepts at 800-337-5339 or e-mail info@stagingconcepts.com. To view the full line of Staging Concepts products, visit www.stagingconcepts.com.