News & Notices
Offering Prague Quadrennial Tour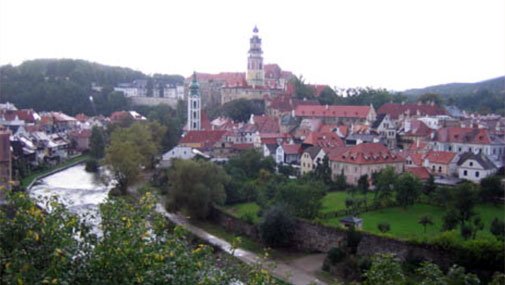 Prague is a Sleeping Beauty, reawakened and enjoying her reign as the Queen of Eastern Europe, and in June 2011, she's giving a party. Prague's red tile roofs, hundreds of spires and towers, hills and valleys, and palaces and gardens tumbling around the sparkling ribbon of the river Vltava are images out of a fairytale. Builders, architects and artists have passed through Prague, each leaving a signature and influence. All were then absorbed, reinterpreted, and reinvented by the Czechs into her contemporary splendor. The Queen opens her arms to welcome her guests.
USITT members, their friends, and family are invited to the ball. This year's USITT Study Tour will visit this welcoming city, its palaces, cathedrals and museums, its Jewish Quarter, and two of its most beautiful and historic theatres. A private tour of Prague's architectural treasures -- gothic, baroque, renaissance and art nouveau; a visit to the costume and artifact holdings in its Museum of Decorative Arts; and an evening of opera are just a few of the delicious treats offered at Prague's cultural banquet.
The party doesn't stop there. The tour will hop onto a private motor coach to travel to Cesky Krumlov for two nights. On the way, it will stop at the town of Ceske Budejovice, built as a royal city in the 13th century and rebuilt in the 16th century; it is the home of the Budvar Brewery. After a brief visit, participants will proceed to Cesky Krumlov, a small, beautifully preserved medieval town, to explore Krumlov Castle and its Baroque Theater, preserved along with its 18th century sets, props, and stage machinery. During the visit to the Baroque Theater, we will meet with professionals who work to maintain its original design.
Return to the Grand Ball, itself, the Prague Quadrennial! The tour members will attend the exclusive pre-opening party on the evening of June 15 and have five full days to explore independently the international theatre design exhibition, and the many PQ and Scenofest events spilling out across the city.
Don't miss this once in a lifetime opportunity to join the 2011 USITT Study Tour for an unforgettable party. The Queen awaits your presence.
For further information, contact the 2011 Study Tour Coordinator, Marianne Custer, at mcuster@utk.edu, or click here for an application and complete itinerary.