News & Notices
Offer Certification Exams, Recertification Information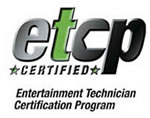 All three ETCP examinations will be given at USITT's Annual Conference & Stage Expo in Charlotte, North Carolina. The entertainment electrician exam is scheduled for Friday, March 11; the arena rigging exam is to be given the morning of Saturday, March 12, and the theatre rigging exam is scheduled for that afternoon. Candidates who wish to take multiple exams will receive a discount for the second exam. Interested applicants must submit their application, along with supporting materials and fee, to the ETCP office no later than February 10. Space is limited.
Candidate information, including eligibility requirements and applications, is available on the ETCP website, or contact Meredith Moseley-Bennett, ETCP Certification Manager, at 212-244-1505 or certification@esta.org.
Rigging examinations are given daily at over 190 computer based testing centers across the U.S. and Canada. After applications have been received and accepted, information on how to schedule examination at a site, date, and time that is most convenient will be sent.
ETCP Certified Riggers who passed the inaugural examinations came up for renewal in November 2010, as certification is valid for five years. Two-hundred and seven rigger-arena and rigger-theatre certifications were awarded and 94 percent of these certifications have been renewed. Recertification is a means of documenting a technician's competence to continue to practice in the profession and provides for a safer industry.
To maintain ETCP Certification, a certified technician must accumulate 40 renewal credits of continued training/professional development or retake the examination and accumulate a minimum of 10 renewal credits of continued training/professional development over the five-year period. For more information, visit etcp.esta.org.