Commissions
Costume Sessions Feature Leather Construction, Shopping
Those planning to attend the Charlotte 2011 Conference & Stage Expo should remember the Costume Design & Technology Commission is offering two Professional Development Workshops on Tuesday, March 8; Leather Sword Belts and Baldrics and an afternoon shopping trip to Mary Jo's Cloth Store in Gastonia, North Carolina.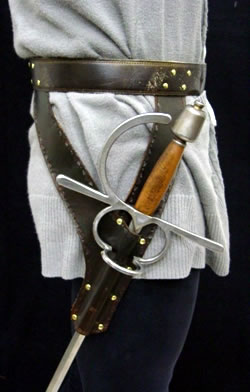 The Leather Sword Belt session is a full day session and will be filled with information on tools, supplies, and techniques for the creation of leather sword belts and baldrics. It will be presented by Colleen Muscha, professor of costume design at Florida State University; Andrea Varga, assistant professor of costume design at SUNY New Paltz; and Dorothy Barnes and Julia Kasanovich, third- year costume graduate students at Florida State University.
The workshop session will cover the proper fit of the sword belt and baldric and the movement challenges an actor faces when wearing them on stage. There will be discussion of the various types of swords, and the proper stage holders/scabbards for each. Leather techniques covered will include cutting, riveting, attaching snaps, lacing techniques, leather stamp tooling, attaching buckles, and dyeing leather. Many of the techniques covered will be useful in other costume leather projects. The morning will be devoted to lecture and demonstrations followed by a technique practice session. In the afternoon, participants will create their own sword belt and baldric. All participants will also leave with these tools.
The second session, an afternoon trip to Mary Jo's Cloth Store, is being hosted by Martha Cooper, professor of costume design at Florida State University. Mary's Jo's started out 59 years ago as a small mill outlet and has grown to become what is thought by many to be the best fabric and trim store on the east coast. It has bridal, "fancy fabric," home decorating, and trim departments that rival the best fabric stores with amazing prices. Whether it's a first trip to Mary Jo's or a return visit, there's always something new and wonderful. Visit the store's website at maryjos.com.