News From:
Contributing Members
Foy Upgrades to Contributing Member
Foy Inventerprises, Inc., one of USITT's long-time members and contributors has upgraded to the Contributing level of membership. The Las Vegas –based company is one of the most famous and widely-respected theatrical flying company in the world. Peter Foy's innovative techniques and patented mechanical inventions elevated the ancient practice of stage flying to a modern art form and have given wings to thousands of Peter Pans, including four Broadway incarnations. Foy pioneered the development of sophisticated automated systems for flying performers and emerged as a leader in flight automation for the 21st century with a regular clientele that includes The MTV Movie and Video Music Awards, Walt Disney Theatrical, SNL and Royal Caribbean International. More than 50 Broadway shows have featured Foy Aerography including American Idiot, Angels in America, Billy Elliot, Chitty Chitty Bang Bang, The Lion King, Mary Poppins, Nine, Spamalot, Tarzan, The Who's Tommy, The Wiz, and Priscilla, Queen of the Desert. For more information, visit www.flybyfoy.com.
Acoustical Canopy Almost Complete
InterAmerica Stage Inc. announced that the acoustical canopy for the new University of Southern Florida Concert Hall is near completion. In addition to the canopy, InterAmerica Stage Inc. provided two motorized microphones, seven acoustic curtains, and two electrical front of house line shafts. The new USF Concert Hall is scheduled to open in the spring of 2011.To see the images of the work, visit www.iastage.com.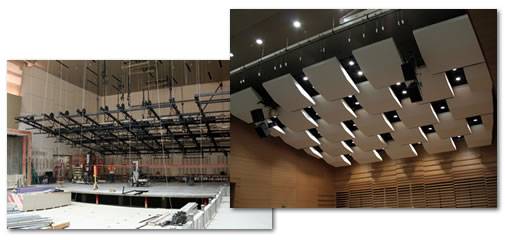 Firms Aid in Opera House Lighting Renovations
Opened in 1908, Teatro Colón in Buenos Aires, Argentina is considered one of the most prestigious opera houses in the world. Renowned for both its architecture and magnificent acoustics, it has hosted such stars as Maria Callas, Richard Strauss, Arturo Toscanini, Igor Stravinsky, Enrico Caruso, and Luciano Pavarotti. But over time, the opera house began to show signs of its age and was in need of a technological update. When Mayor Mauricio Macri gave the approval to move forward with the redesign, Teatro Colon turned to acclaimed lighting designer Ernesto Diz who enlisted the help of Stage Technologies and Philips Entertainment for a complete lighting design renovation.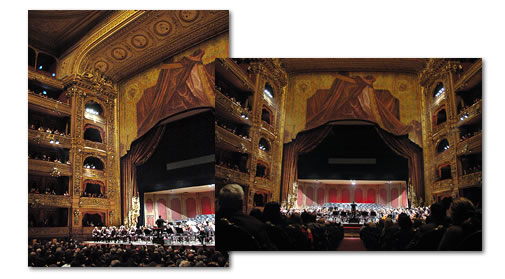 J.R. Clancy to Re-rig Acoustical Tiles
When the acoustical tiles became frozen in place in Whitney Hall at the Kentucky Center for the Arts, theatre consultants Westlake, Reed, Leskosky turned to J. R. Clancy, Inc., for the best possible solution.
To accommodate the acoustical requirements of many different groups, Whitney Hall's ceiling includes wooden acoustical tiles that can be repositioned to adjust the sound quality. Recently, the hydraulic hoists that control these tiles have become stuck in place, so house acousticians can no longer adjust the house to improve the sound. J. R. Clancy will replace the hall's original hydraulic hoist system with 32 electrically powered line shafts. This will bring the acoustical system's functionality back to like-new condition.
For information about J. R. Clancy's custom and off-the-shelf rigging solutions, visit www.jrclancy.com, or call 800-836-1885.
Creative Stage Lighting Introduces Power Distribution Product
Creative Stage Lighting announced its newest entry into portable power distribution: Entertainment Power Systems Dura-Power UL-listed power distribution units. The distros are fully modular power distribution systems for industrial uses and touring entertainment productions. Each Dura-Power distro is made in the USA from top quality components for maximum safety and durability. EPS Dura-Power racks are made for lighting, sound, and video applications. For more details, visit the website.
Vari-Lite Luminaire Receives Industry Award
The Eighth Annual Produccion Profesional & Produccion Audio Awards took place November 25 at the IFEMA Trade Fair in Madrid, Spain. Nearly 500 professionals from the lighting, sound, production, TV, and video industries were in attendance and eager to honor the award winners from 23 distinguished categories. At the event, the VLX Wash luminaire was honored with the "Best Product for Lighting and/or Scenery" award, and Vari*Lite authorized sales dealer EES was on-hand to accept the award on behalf of Philips Vari-Lite.
Rose Brand Introduces LED Animation & Video Curtain
Rose Brand's new Animation & Video Curtain features advances in technology that include randomly positioned LEDs as well as ease of setup and use. The curtain is perfect for rendering low to medium resolution still images, video loops, and flash animations.
Rose Brand's Animation & Video Curtain is works well for theatres, concerts and large-scale events. Click here to see a demonstration.
ETC Selador LEDs and Eos Console Light Up the Healing Place
Located in Baton Rouge, Louisiana, Healing Place Church takes its name from its mission: to be "a healing place for a hurting world." To this end, it ministers through webcasts, national television broadcasts, and direct outreach to local community. A new worship center was built on ther 55-acre campus. Playing a key role in lighting this new multipurpose facility are ETC Selador Vivid LED fixtures and an Eos control console.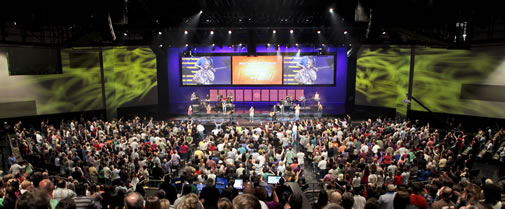 PRG Acquires Innovative Event Production
Production Resource Group, L.L.C., a leading entertainment and event technology company, announced it has purchased Washington, DC-based Innovative Event Production (IEP). The acquisition reinforces PRG's position as the foremost provider of client services, equipment, and technology solutions in the entertainment, meetings, and events industry. For over 15 years, IEP has provided equipment and services to the event industry, including Fortune 500 companies, trade associations, government agencies and non-profits.
For more information on PRG, please visit www.prg.com.