Commissions
Everything is a Weapon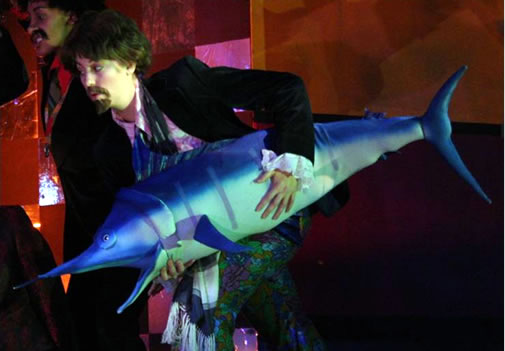 Attempted murder with a golf club! Beating the bloody begeezes out of someone with an umbrella. Attack of the sausage nun chucks! Defending one's self with a full sized swordfish! Dodging violently flung sticky buns, and not doing a bit of real damage!
Come to the 2011 USITT Conference & Stage Expo in Charlotte, North Carolina and explore the wacky and exciting world of prop stage combat weaponry. The program, led by sword cutler and prop artisan Tom Fiocchi, will examine the collaboration of prop artisan, fight choreographer, and actor as they attempt to stage realistic faux fights using, well, almost anything.
What makes a safe, effective combat weapon? Participants will discuss the theories and physics involved in stage violence, and methods and materials that the artisan can use to achieve the goals of creating interesting, tough, untraditional weapons.