Workshop to Alleviate Rendering Fears
Let's Render - A Fear Buster Scenic Rendering Workshop is a hands-on event to help scene designers diminish their fear of rendering. It will be held 9 a.m. to 5 p.m. March 30 and will be presented by Wenhai Ma, chair, and Clare P. Rowe. The workshop is being offered by USITT in conjunction with the Scene Design Commission, and will preceed the Annual Conference & Stage Expo in Kansas City.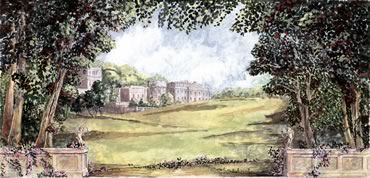 As part of Let's Render, Mr. Ma and Ms. Rowe will provide examples of scenic renderings created in watercolor, gouache, acrylic, mixed-mediums, and digital media. The workshop includes a good number of detailed, clear, step-by-step demonstrations. One of the sessions will focus on Preparing the Sketch with clear demonstrations and explanations on how perspective is used practically and how a perspective sketch is produced for theatre design. The second half of the session will feature hands-on rendering exercises. Attendees will work on a project and each will get a chance to work closely with the presenters.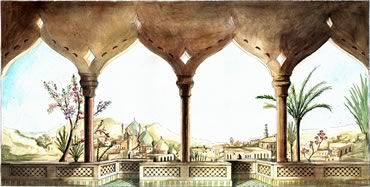 Mr. Ma is an associate professor, senior designer and master teacher of scene design at UIUC. He has designed sets and costumes for many productions and has illustrated over 10 children's books. He has won the Kentucky Bluegrass Book Award and was nominated for The Golden Kite Award. He is working on his book Theatre Design Rendering.
Ms. Rowe is an associate professor teaching rendering and scene painting at the University of Arizona's School of Theatre Arts. She has extensive experience in rendering, trompe l'oeil scene painting, including portraiture, and has an MFA in painting with a concentration in figure painting from the Maryland Institute College of Art. Ms. Rowe is the author of Drawing and Rendering for Theatre, published by Focal Press in 2007.
Landscapes and works by Clare P. Rowe show some of the techniques which will be discussed at the Let's Render workshop which is scheduled for Tuesday, March 30 before the start of the 2010 Annual Conference.
Images/Clare P. Rowe
The images in this article are under copyright, and may not be reproduced without the expressed permission of the artist.