To Celebrate International Connections
As a part of the 50th anniversary festivities, the International Committee has invited guests from around the world to join the 2010 Conference & Stage Expo in Kansas City, Missouri.
World Stage Design Gold Medal winners, OISTAT officers and commissioners, and guests of the Kennedy Center's Cultural Visitors Program will all share in this special occasion. A preview of the USITT PQ USA '11 exhibit will be presented.
Liu Xinglin, winner of the WSD 2009 Gold Medal for scene design, is a professor at China's Central Academy of Drama, and Vice President of the OISTAT China Centre. Speaking 6 p.m. April 2, he will present his spectacular works of scene design including Tangwan, the Yue traditional opera selected for the WSD award.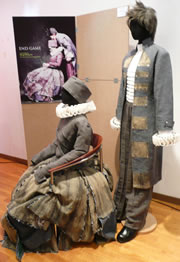 WSD 2009 Gold Medal Costume Design for Endgame by Lin Heng-Cheng
Lin Heng-Cheng is the WSD 2009 Gold Medal Winner for Costume Design. Trained in Taipei and USC, he is head of the Department of Fashion Styling and Design Communication at Shih Chien University in Kaohsiung, Taiwan. His designs have appeared in the TATT-Taiwan Prague Quadrennial Exhibits in 2003 and 2007. His presentation, "Message from a Piece of Cloth," will take place 5 p.m. April 1.
Both of these prestigious designers will bring displays of their award-winning productions to exhibit in the Stage Expo International Exhibits area.
John Leonard from the United Kingdom will be the international guest presenter in Sound Design, speaking 1:30 p.m. March 31. A prolific designer who has worked with many of the major companies in England, he has been experimenting with surround formats and recording three-dimensional sound. He is author of the book, Theatre Sound published by A&C Black.
The OISTAT Executive Committee and Governing Board will share in the celebrations of the longevity of USITT, which is followed closely by OISTAT, an organization that recently achieved its 40th anniversary. A session at 3 p.m. Friday will feature the current research and designs of some of these distinguished guests. Presenters include Ivo Kersmaekers of Belgium on "Old theatre tricks using new materials: Pepper's Ghost, used in modern productions"; Duncan Chang of Taiwan on LED applications in Asia; and Louis Janssen from the Netherlands on architectural issues in new theatres. A second session 3 p.m. Saturday will feature Kate Burnett from England on curating and presenting found space performances, and Reija Hirvikoski from Finland on "The (High)Lights of Finnish Stage Design."
At 5 p.m. April 2, USITT representatives to OISTAT will share their experiences in the workshops and other activities that OISTAT hosts in conjunction with its meetings. All members of USITT are automatically members of OISTAT and are eligible to participate in these events. Laura Crow will review the creative projects of the Costume Working Group; Michael Ramsaur will cover the World Stage Design and World Congress recently held in Seoul, Korea; Rick Thomas will speak about the innovative projects of the Sound Commission; and Fritz Schwentker will discuss the outreach efforts of the Technology Commission.
On Saturday, a double session will introduce the guests from the Kennedy Center's Cultural Visitors Program. The program offers professional development opportunities to emerging artists from around the world to come to the USA for instructive and informative experiences in their fields. This will be the third year they have attended the conference and the first time for them to present their designs. There will be two designers from each discipline. Presenting at 11:45 a.m. will be Lighting Designers Chee Wei Ee from Malaysia and Usma Sabeen of Pakistan, along with Sound Designers Nakakawa Kayongo from Uganda and Hasan Balkhi of Syria. The second session at 1:30 p.m. will include Costume Designers Irma Saje from Bosnia and Herzegovina and Misha Gurin of Ukraine, and Set Designers Daniel Delong of Ghana and Nino Maglakelidze from Georgia.
PQ 2011 is little more than a year away, and a session detailing the emerging plans for the National Exhibit and Scenofest will occur at 6:30 p.m. April 1. This session is for all interested in attending and participating in the PQ next year, including an announcement about the USITT Study Tour to Turkey and Prague. This session also will include information about the prospective tour the National Exhibit will take of the United States upon return from The Czech Republic. Attend this session to learn more about the tour logistics.
A second PQ session at 1:30 p.m. Thursday will spotlight students planning to attend the PQ. Submissions to the gallery are now closed and the committee is seeking students who will be traveling to Prague who wish to participate in the live action part of the display.
A new feature of the USITT PQ USA exhibits this year is a preview of the exhibit planning process at the Stage Expo. The National Exhibit will feature a canopy of images and videos from productions submitted for consideration. Expo guests will be able to view the variety of productions submitted at several interactive stations. Next to the National Exhibit, the Student Exhibit will preview the interactive component planned for Prague. Their exhibit will ultimately consist of two separate yet linked parts, a gallery and a participatory aspect. American students will collaborate openly on a new piece of design using a unique piece of text.