Time to Vote!

USITT Special Referendum & 2010 Board Of Directors Election

Voting is underway for the 2010 election. Balloting will continue at https://eballot.votenet.com/usitt/login.cfm until February 10, 2010
The USITT Committee on Nominations has presented candidates for election to serve on the Board of Directors. Travis DeCastro, current USITT Treasurer, has been added to the ballot by petition as a nominee for Treasurer.
USITT members are being asked to vote on a Special Referendum which will allow a change to correct the spelling of the Institute's name.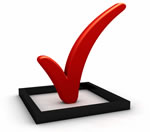 USITT members, current as of as of noon, Eastern Standard Time on December 7, 2009, are eligible to vote in the 2010 election.
The USITT Board of Directors is the governing body of the corporation. Duties of the Board include establishment of membership dues structure, approval of the annual budget, and approval of policies for any service provided by or to the corporation. Each of the members nominated for Executive Committee positions are running for a two-year term. The Committee has nominated 12 individuals for six positions as Directors at Large to serve three-year terms beginning July 1, 2010.
The 2010 election is being conducted using electronic balloting, a confidential and secure means of casting votes. It is critical that members participate in the election process. By doing so members invest in the future of the Institute.
Members are urged to review the details of the Special Referendum and the biographies and position statements of all candidates prior to casting a vote.
For questions regarding the voting process, please contact Shannan Hoerger at the USITT office, 800-938-7488 or 315 463-6463 ext. 101, or e-mail shannan@office.usitt.org
Electronic voting will close on February 10, 2010.