New Century Fund Helps Students Secure Future
The fresh new year of 2010 portends a great celebration for USITT. A significant portion of the celebration is recognizing the accomplishments and importance of the Institute's student members. The Institute's future lies in the emerging talents of students drawn to the art and craft of the theatre.
Each member has memories of that initial nudge from a mentor, the moment when "lab hours" went from onerous to exciting, and the first USITT Annual Conference & Stage Expo (that we drove all night to attend).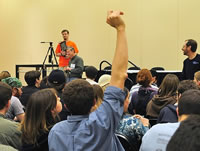 Recognizing the importance of those moments and the need to foster those budding talents, the Fellows of USITT established The New Century Fund in 1993 for donations to fund special projects, awards, and scholarships in support of students and young professionals. Specific projects supported by this fund include the H&H Specialties Student Conference Support and the Awards for Young Designers & Technicians in the Performing Arts. Annual gifts not designated for a specific purpose are allocated so that 75 percent is available for direct support of students and young professionals in the following year. The remaining 25 percent is invested to build support in the future.
Philanthropy to support students seeking their passion has its own special meaning to the donor. A gift to the New Century Fund at this time is enhanced by a match of 50 percent; a $25 donation brings $37.50 which can be used as support. Make a secure online contribution or download a form to mail.
Call 800-938-7488, ext 102 to contribute by phone. Another option is to make that donation on the Conference registration form. Take the special opportunity to join us in Kansas City and Secure Our Future for students.