The Count is In -
Election Results Announced
On January 12, 2007, Secretary Patricia Dennis, joined by Chair of Nominations and Immediate Past President John Uthoff and members of the USITT Staff, Monica Merritt, Carrie Boyce, Brian Petranchuk, and Michelle Smith met in Syracuse to count the ballots for this exciting election year.
The Institute is truly grateful for those who were willing to run in this election, and also thanks members for their willingness to take the time, express preferences, and vote to determine the leadership of the organization.
Officers, all of whom will serve two-year terms, are Patricia Dennis, Secretary; Kim Williamson, Vice-President for Commissions; Joe Aldridge, Vice-President for Conferences; Alexandra Bonds, Vice-President for International Activities; and Lisa Westkaemper, Vice-President for Promotion & Development. Carl Lefko will serve a one-year term as President-Elect.
Elected as Directors at Large to serve three year terms are: Lea Asbell-Swanger, Nadine Charlsen, Sherry Wagner-Henry, Michael Mehler, Mark Shanda, and Craig Wolf.
All terms of office will begin July 1, 2007. Congratulations to all new Officers and Directors at Large!
Although this election cycle has been completed, the process begins again for future officers and Directors at Large. Nominations forms can be downloaded, filled out, and sent to Mr. Uthoff in his role as Chair of Nominations to suggest an individual to be considered for a position on the 2008 ballot.
At the Conference, members of the Nominations Committee will meet and discuss additional names of potential candidates, and determine the interest level of those whose names have been suggested. For more information on the process, contact Mr. Uthoff at jstud@ksu.edu
Invest in the leadership of USITT
To Top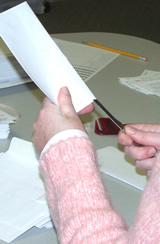 USITT Officers and staff members spent time opening and tallying ballots to complete the 2007 Institute election cycle.

Photo/Barbara E.R. Lucas