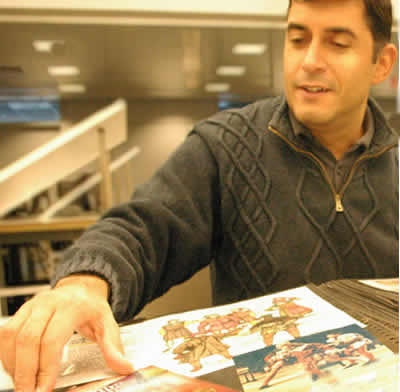 Rafael Jaen, left, reviews elements which can combine to create the perfect portfolio. He will also be part of the Member Author Book Signing on Thursday March 15 from 1:30to 2:30 p.m. at the USITT Boutique.
Photo/Courtesy of Rafael Jaen
Planning, Feedback Keys
To Good Portfolio Reviews
Designers and technologists, do you want to know how your work really rates in the industry? Or would you like to share your years of experience helping out a newcomer?
The opportunity is there at the portfolio reviews scheduled by the Costume Design & Technology Commission during the 2007 Conference & Stage Expo in Phoenix. Other interest areas have reviewers as well (See related story concerning lighting.) Volunteering as a reviewer can be quite inspiring and helpful to both the interviewee and the mentor. Having the courage to get a critique from professionals in the field can be of great value for the young designer/technician in building self-confidence and setting goals.
Rafael Jaen, author of Developing and Maintaining a Design-Tech Portfolio and chair of the Costume Design & Technology portfolio review committee, suggests part of the excitement in putting a portfolio together includes the ability to plan details such as page layout, content variety, and project sequencing. The portfolio then becomes a showcase of the designer/technician's process, resourcefulness, and artistry. The next challenge is to present this showcase, and special attention needs to go into some specific aspects. Mr. Jaen offers these tips:
Presentation of self: This includes first impressions such as grooming, appearance, and manners. This also includes a resume, business card, references plus show program information, reviews, and feature articles. Portfolio presentations include you!
Presentation of work: Clear labeling and keys are extremely important tools that will help describe work. Those who present in person must have a plan, have clear voice articulation, listen carefully to feedback, and ask questions. Portfolio presentations are interactive.
Presentation organization: This refers to the layout of the project. Make sure each one has a beginning, middle, and end. Plan the transitions so they clearly show process, ideas, and solutions. Remember to make some organizational charts and paperwork available. Portfolios showcase process, resourcefulness, and artistry.
Presentation knowledge: Make sure to have project research materials and be current with the information. Examples include clear show analysis, character concepts, proper garment names, and period references. Portfolios feature knowledge-based choices.
Presentation aesthetics: The portfolio will communicate how skilled the presenter is at visual language. Visual components include versatile sketching styles, technical drawings, and quality photos for different theatrical venues and historical periods. All of these elements need to be arranged in a way that fits the mood of the project without overwhelming it. Portfolios communicate the individual's sense of aesthetics.
Mr. Jaen will sign copies of his book during the Member Author book signing session Thursday, March 15 at Stage Expo.
Anyone wishing to sign up for a costume portfolio review or as a volunteer reviewer can contact Mr. Jaen at Rafael_jaen@emerson.edu.
To Top