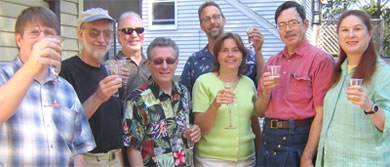 Members of the New England Regional Section recently toasted the memory of Alan Symonds. From left are Keith Cornelius, Clyde Tyndale, Ed Hyatt, Arthur Dirks, Michael Cottom, Crystal Tiala, Ron Dallas and Janice Dallas.
Photo/Courtesy Crystal Tiala
With just about perfect weather for its annual barbeque and annual meeting, the New England Regional Section elected officers and planned for the year ahead.
Officers for the upcoming year are:
Crystal Tiala, Chair,
tiala@bc.edu
since 1997
Ron Dallas, Secretary/Treasurer
ron@dallas-family.com
since...forever
Michael Cottom, Vice Chair mcottom@theater.umass.edu
since 2006
Mike Katz, Director of Communications
mkatz@mit.edu
since 2001
Jeff Gardiner, Computer Communications
jeffg@erols.com
since 2001
Mr. Dallas recently mailed the membership renewal forms. Membership information can be found at www.usittne.org. Expenses are low each year, and the Section can help sponsor events if people are willing to put them together. Provide event information for posting on the web site to Mr. Gardiner.
The design and technical component of the Kennedy Center American College Theater Festival (www.kcactf1.org) has grown significantly over the years. There were about 50 student design entries last year, and more are expected this year. There are many new workshops for students and faculty. USITT New England annually sponsors two competitions at KCACTF: the Technical Olympics and the Technology Innovation & Craftsmanship awards. The Technical Olympics is moving to Friday afternoon.
New events include rigging, costume sketching, creative sound design, production management, more hands-on moving light programming, model building, and light design competition in the Lightbox model box to a short piece of music. All of this is in addition to many activities already in place. On Saturday there will be an interviewing/audition day for grad schools, summer jobs, and internships. Rafael Jean will sign books and talk about creating design/tech portfolios. There will also be many hands-on opportunities with theatrical equipment and toys. Registration includes the design expo, all workshops, meeting with industry reps, interview and audition, and five quality regional college productions. The program for this coming year will be posted in early fall so you can see upcoming activities in advance. If you haven't seen KCACTF recently, you haven't seen KCACTF at all.
All design and tech faculty are invited to display their design and technology projects at the Design Expo January 31 to February 3 at the Four Points Sheraton Hotel in Leominster, Massachusetts. To reserve a spot, e-mail tiala@bc.edu. For those who want their design students to compete nationally or regionally, see details at www.kcactf1.org. There is also a Faculty Fellowship for the summer intensive. See www.kcactf.org for information. You must be nominated through a regional Chair of Design and Technology (Ms. Tiala).
On October 15 Cosmo Catalano will lead a tour of the new theatre complex facility at Williams College. It will start at 1 p.m. The theatre designed by William Rawn, is a Merit winner of the USITT architecture awards. Mr. Catalano was involved full time in the design and construction of the building so there will be unique insights on the process from a Section member. It also should be prime leaf viewing season. More information will be on the New England list serve. For more information about this event contact Mr. Katz, mkatz@mit.edu.
Planning is in progress for REPA '07: Regional Entertainment, Production and Administration Job Expo '07. The date is not set but will likely be February 24. Volunteers are always needed for set up and strike or to man tables at registration. Last year there were 38 employers attending and close to 300 applicants. Faculty are encouraged to urge students to attend. It is free for applicants. Detailed information will be posted through StageSource at www.stagesource.org.
The late Alan Symonds was to be in charge of establishing the framework for a New England props database. In his absence, Mr. Katz was voted into the position. He will establish the criteria and some means of creating accessible, searchable databases of area props storage for rental and borrowing.
A memorial service for Mr. Symonds who died June 20 will be held on 3 p.m. Monday, November 13 in the Agassiz Theater. For more information, call the Office of Fine Arts at Harvard at 617-495-8676 or email ofa@fas.harvard.edu.
To Top