Costume Commission
Introduces New Leadership
This is an exciting time in the Costume Design & Technology Commission. Joel Ebarb and Kristina Tollefson are the new Co-Commissioners. While they are working together on all aspects of the Costume Design & Technology Commission's business, each is the point person for different topics. Mr. Ebarb will be the point person for: annual conference programming, new and continuing projects, bi-annual report, budget and finances, and the Distinguished Achievement nominee. Ms. Tollefson will concentrate on: moderating the Costume Info Listserv, overseeing publication of Sightlines articles, directing the Commission web page, and organizing the summer Costume Symposium.
Those who are unsure who to go to should feel free to copy both on any e-mail correspondence. Let the Commissioners know how they can help you help make the Commission even more beneficial to the membership.
Carey Hanson will serve as the new Sightlines editorial liaison. Ms. Hanson will work with all project leaders to make sure the latest information about all activities is available. Anyone who has ideas for articles related to the Costume Design & Technology Commission should contact Ms. Hanson.
Commission contact information is:
Joel Ebarb, Co-Commissioner; Purdue University Division of Theatre, Patti and Rusty Rueff Department of Visual and Performing Arts, Yue-Kong Pao Hall for Visual and Performing Arts, 552 West Wood Street, West Lafayette, Indiana 47907-2002; office phone 765-494-2144; fax 765-496-1766; e-mail: jebarb@purdue.edu.
Kristina Tollefson, Co-Commissioner; University of Central Florida, P.O. Box 162372, Orlando, Florida 32816-2372; office phone 407-823-0233; fax 407-823-6446; e-mail kristina@tollefsondesigns.com.
Carey Hanson, Sightlines Editorial Liaison; Assistant Professor of Costume Design; University of Mississippi, Department of Theatre, Isom Hall Rm 110A, University, Mississippi 38677; office phone 662-915-6990; e-mail costumes@olemiss.edu.
To Top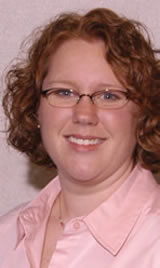 Kristina Tollefson, above, and Joel Ebarb, below, join the leadership for the Costume Design & Technology Commission.