Have Costume Sessions,
Ready to Travel
To help further the dissemination of techniques and expertise with costumers and students across the nation, the Costume Design & Technology Commission has identified a number of sessions available to travel to USITT sections, universities, or other groups.
It is the Commission's hope that presentations of costume master classes and workshops by members will continue the work of the Commission beyond the annual conferences, Professional Development Workshops and Summer Symposia.
Many of these sessions were presented at USITT Annual Conference & Stage Expos in recent years, some were offered at the regional level, and others are new to membership. Each session has its own set of goals and requirements for maximum attendance, skill level of participants, space, equipment requirements, and budget.
The list of traveling sessions includes:
For specific session details you can visit the Costume Design & Technology web site or through www.usitt.org.
USITT and the Costume Design & Technology Commission have no involvement with the booking or costs. If you or your organization would like further information on booking any of these traveling sessions and the costs involved, contact the presenter directly.
If you have additional questions, contact the Chair of this Project, Debra Krajec, at: debra.krajec@marquette.edu.

To Top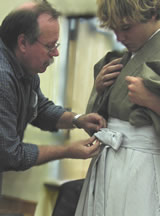 Bob Haven, above left, ties an obi at the waist of Grant Austin, a student at the University of North Carolina at Chapel Hill. Mr. Haven's display of traditional Japanese male dress is part of a traveling workshop from the Costume Design & Technology Commission. The picture is from Undressing the Shogun.
Photo/Kristina Tollefson