Travel to Toronto is Easy
The USITT Annual Conference & Stage Expo in Toronto is international on many levels, for not only is the Institute hosting the World Stage Design, and the OISTAT World Congress with its Canadian counterparts in CITT/ICTS, the Institute is meeting in another country. To ensure easy travel to Canada, please remember to carry the essentials.
1. United States citizens attending the Conference will need a passport or a birth certificate along with acceptable photo identification for travel to Canada.
2. Foreign nationals with permanent residency and permanent green card may travel to Canada with appropriate identification papers. These people will be required to present proof of citizenship when clearing customs. Any one of the following forms of identifications are recommended:
Passport and green card
Birth certificate, valid photo identification, and green card
3. In addition to these, anyone with foreign citizenship and currently living in the United States with a temporary green card - including student, work, or visitor permits - must find out if they are from a country needing a visa to travel to Canada. To see a list of countries and territories whose citizens are required to obtain a visa for entry into Canada, go to www.cic.gc.ca/english/visit/visas/html. If your country is included on this list, then you will need to start the application process for a visa at least two months prior to the conference dates. We recommend beginning immediately to allow the time needed for processing a visa.
USITT is working with the Toronto Convention & Visitors Association to facilitate the travel of all of conference attendees. They have notified the Canadian visa granting authorities about the event in an effort to facilitate applications. For further advice and assistance, e-mail abonds@darkwing.uoregon.edu.
To Top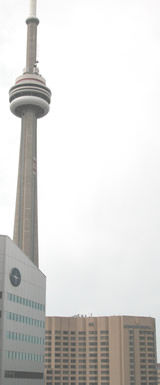 No matter how you get to Toronto, the CN Tower is a recognizable guidepost. It is north of the Metro Toronto Convention Centre and the InterContinental hotel.