News & Notices
Rigging Safety Grants – Fall 2017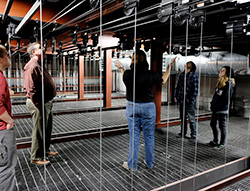 USITT has approved funding for stage rigging inspections and safety training at no cost for 10 additional schools as part of its Rigging Safety Initiative (RSI). The Rigging Safety Initiative is sponsored by H&H Specialties, ETC, and JR Clancy.
RSI has approved applications from more than 100 schools spanning across 25 states since its start in 2011. Schools can apply for the free inspections twice a year, in spring & fall. A USITT panel of rigging experts determines when applicants are approved based on need, safety concerns, and the amount of funding available.
The schools that have been awarded free inspections as well as four to six hours of safety training for up to eight staff members and students are:
Bound Brook High School
Bound Brook, New Jersey
Brecksville-Broadview Heights High School
Broadview Heights, Ohio
Buhach Colony High School
Atwater, California
Jesuit High School
Portland, Oregon
Lathrop High School
Fairbanks, Alaska
North Pole High School
Fairbanks, Alaska
Sylmar Charter High School
Simi Valley, California
Timothy Christian Schools
Elmhurst, Illinois
West Valley High School
Fairbanks, Alaska
Western High School
Louisville, Kentucky
Applications for the next funding cycle are due April 20.