News & Notices
Art Auction & Garage Sale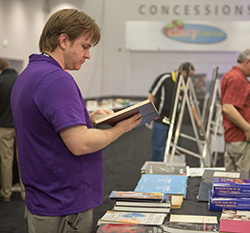 The Art Auction & Garage Sale will take place in a specially designed area near the newly created "Dark Zone" and Nexus exhibit on the Expo floor. This special event benefits the Edward F. Kook Fund. Every three years, the Grants and Fellowships Committee produces this event to help replenish the Kook Fund, which provides funding for the grant awards that the Grants and Fellowship Committee make each year. To date, more than $300,000 has been distributed to a variety of grant and fellowship recipients through this funding.
In this year's auction, you will find costume, lighting, and scenic renderings by a variety of designers along with other artwork and specialty items that you may place bids on. The Silent Auction bidding opens at 11 a.m. Thursday along with the Expo opening and will remain open throughout the week.
Garage sale items will feature books, show posters, archaic lamps, and other theatre memorabilia that can be purchased at any time through simply showing our attendants your auction book. You'll want to hit the garage sale early and frequently throughout the week because items can be taken as soon as they are purchased and additional items will be added throughout the week.
Just a few of the theatre artists represented in this year's auction include Rebecca Cunningham, Dunsi Dai, John Scheffler, Joe Tilford, and Carolyn Ross. Several especially interesting donations in this year's auction include scenic and costume renderings from the estate of Herb Camburn, renderings from Tanya Moiseiwitsch and Jo Mielziner, a Cirque du Soleil poster along with show tickets, additional road/tour jackets, and theatre masks. Some showcase auction items this year come from Cirque du Soleil's founder and creative guide, Guy Laliberté.
All it takes is a $5 donation to receive a bid number. From there, you can either make immediate purchases at the garage sale or go on to bid on those pieces that you think would make a great gift or handsome addition to your home or office.