International
PQ Jr. Lands at Kent State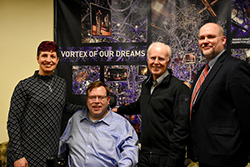 The Prague Quadrennial traveling exhibit, also known as PQ Jr., is now being shown at Kent State University in its Performing Arts Library. The exhibit is on display now until April 5.
This event is free to the public.
The photographs and videos in the exhibition are from USITT's exhibition at the 2015 quadrennial, which was installed in the 14th century Church of Saint Anne and was visited by 180,000 people.
Designed by Klara Zieglerova, with lighting design by Kevin Rigdon, the exhibition was guided by the quadrennial's theme of weather, evoking the most American of meteorological phenomena: a tornado.
The iPads in this exhibit include images, video, and interviews that encourage visitor engagement in multiple ways with the featured productions. Thirty professional designs were on display, along with examples of work from the Student Exhibition.