News & Notices
Institute Awards Winners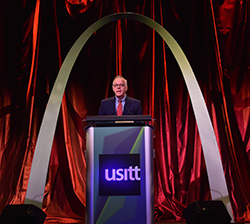 It's award season! These award winners as well as the previously announced publication winners will be honored at USITT 2018, March 14-17, in Fort Lauderdale, Florida. Congratulations to all winners.
Joel E. Rubin Founders Award 2018
Richard Pilbrow
In recognition of an outstanding career in the professional theatre and of generous and continued service to USITT for more than a half-century.
Wednesday, March 14, 9:30 a.m.-11:00 a.m., Floridian Ballroom
USITT Award 2018
William Ivey Long
In recognition of a lifetime of distinguished contribution to the performing arts as an accomplished and honored practitioner to the art of costume design in the entertainment industry.
Wednesday, March 14, 9:30 a.m.-11:00 a.m., Floridian Ballroom
Thomas DeGaetani Award
Disney Parks Live Entertainment
"The Thomas DeGaetani Award is intended to honor an 'outstanding lifetime contribution' and I submit that through its people, Disney Parks Live Entertainment has surpassed multiple lifetimes in contribution, but more importantly, those contributions have benefitted the live entertainment industry as a whole through meaningful connections with individual practitioners at various points along career paths." - Lea Asbell-Swanger
Wednesday, March 14, 9:30 a.m.-11:00 a.m., Floridian Ballroom
Honorary Lifetime Membership 2018
Zelma H. Weisfeld
In recognition of her indomitable spirit and generous contributions of expertise, time, energy, and treasure through countless years as a director at large, an active Fellow of the Institute, Costume Commission volunteer, supporter of young artists, a strong advocate for women's rights, and a model citizen of the Institute and the world.
2018 Wally Russell Professional Mentoring Award
Randy Lutz
In the words of one of the 23 people who wrote letters of support:
"Randy is the best manager of people whom I have ever met. He hires his staff and assistants for each summer season like an artist chooses paints: looking for complimentary skills and personalities that blend together in a positive and productive way."
Friday March 16, 9:30 a.m.-11 a.m. Floridian Ballroom
2018 International Travel Grant
Professional:
Sherry Harper-McCombs
is planning a two-week residency with Papermoon Puppets in Yogyakarta, Indonesia
Student:
Skye Strauss - Northwestern University
will be traveling to London in summer of 2018 to research Kneehigh Theatre
International Reception
Wednesday, March 14, 6:00 p.m. - 7:15 p.m., Hilton Marina Atlantic Ballroom