Architecture Award Winners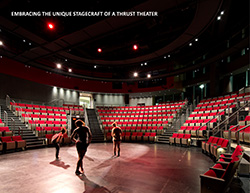 USITT's 2018 Architecture Awards feature both a top honor award as well as a merit award. Receiving the honor award is Ruth Caplin Theatre at the University of Virginia in Charlottesville, Virginia. The merit award goes to Harpa Reykjavik Concert Hall and Congress Centre in Reykjavik, Iceland.
The award reception will take place on Friday, March 16, 2018 at 5:30 p.m. room 122 in the Broward County Convention Center in Fort Lauderdale at USITT 2018. A reception will follow. The Conference will also offer multiple architecture sessions, several for AIA/CES credit.
Honor Award
Ruth Caplin Theatre, University of Virginia, Charlottesville, Virginia
Architecture Firm: William Rawn Associates
Theatre Consultant: Theatre Projects Consultants, Inc.
Acoustical Consultant Threshold Acoustics LLC
The unique asymmetrical and democratic seating arrangement of the Thrust Theatre creates a feeling of intimacy, but also self-awareness; the entire room lends itself to creative, immersive staging. Since its opening, the drama department's production program continues to discover the transitory and flexible relationships between audience and stage offered by the Thrust Theatre.
The psychology of the room is enhanced by natural light that floods the space during daytime; but the room can be darkened at any time by automated black-out shades that cover the windows of the serpentine curtain wall. During daytime the theatre is used as an instructional space that accommodates large enrollments and the infusion of natural light into the theatre space enlivens the dynamic of the room.
Merit Award
Harpa Reykjavik Concert Hall and Congress Centre, Reykjavik, Iceland
Architecture Firm: Henning Larsen
Associate Architect: Batteríið Architects
Acoustical Consultant: Artec Consultants Inc
The main hall Eldborg lives up to its role as a world-class concert hall, with state-of-the-art acoustic technology and a unique setting, providing the audience with an unforgettable experience on numerous levels.
Smaller halls such as Norðurljós provide the perfect surrounding for chamber music and stand-up, while Silfurberg is ideal for all kinds of electric concerts. The selection of different spaces, quantity of quality in-house gear and all the excellent staff of Harpa make Harpa a unbeatable choice. Harpa is an adaptable modern venue where all musical genres can find its place.