News & Notices
Member Spotlight: Maranda DeBusk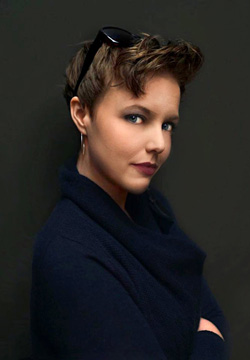 Q&A with Maranda DeBusk
How did you get your start in lighting design?
When I was younger, my family moved across the country a few times, and I started falling into theatre departments in high school because they were always really welcoming. One day someone mentioned that they needed a light board operator for a show, and I said, "Well, I've never done that before." And here we are. I started designing for productions when I was an undergrad at Furman University, I worked as an electrician and assistant at local theatres throughout college, and I started designing professionally the summer after I graduated.
Tell me about the difference between lighting design and projection design
It's difficult to describe the differences between projection and lighting design. They've become very intertwined for me. They both affect the audience's perception of the location, emotion, and flow of a piece. I think the greatest difference is that projection design bridges the gap between scenic and lighting designs. Often in a more direct way, projections can influence the world that we've created, and sometimes can affect the mood or action of a piece in a more literal way than lighting can.
What I find very interesting is that everyone approaches projection design differently. Lighting designers from a lighting perspective, scenic designers from a scenic perspective, sound designers from a sound perspective and so forth. It's such a young field that we're all still figuring it out.  It's like the wild west of theatre. There are no rules.
Tell me about your USITT Barbizon Lighting Design Award win
I was so excited when I won. It's such an honor to have been selected.  There are so many talented young lighting designers in the country, and to know that there was something about my work that stood out to the selection committee and the Institute is a major confidence boost. The cash prize has been helpful as it was half the cost of my Vectorworks license when I upgraded to a professional version. It was the core of what helped further my career. Getting to meet Jonathan Resnick was very important, and he was such a great guy. I spent an afternoon with him, and he changed my life in a lot of ways. I'm so thankful to have had that opportunity.
Tell me about your involvement with World Stage Design in 2017
I got to exhibit in Taipei, Taiwan this past summer as one of 15 emerging lighting designers worldwide which was crazy. It was an incredible opportunity to meet people from all around the world who do what I do. I often think of the theatre I do every day as the theatre in my region, and sometimes I think about the theatre of my country, but to spend a full week thinking of theatre as our world is a different perspective. It really unites us and opens doors to new and different ways of looking at our art. It was a great learning experience and fascinating to see.
What is your design style?
I like to think that the style depends on the piece that we're putting together, and the people we're putting it together for. My favorite type of theatre to do is Theatre for Social Change. Things with a social justice message that involve communities. But the style of that piece might be simpler than a rock musical. It just depends. In general as far as aesthetic style goes, I love big bold choices in color and texture. It's not right for every piece, but I love the way it feels when it is right.
What is an important lesson you've learned throughout your education and career?
"There are no rights or wrongs. There are only choices and consequences." I riff off that every day. To me it says that there's nothing I can do that's going to make this building explode. There's no button I can push, there's no content I can put out there, and there's no angle, color, or texture that I can choose that's going to cause incredible and irrevocable harm, so I should try it. If it doesn't work, it doesn't work, and then you try something else.
How has USITT played a role in your life?
I got started with USITT in 2011. I was a sophomore in undergrad and I had gotten a grant from my university to go to the Conference to see what there was to see. I was young and had no idea what I was doing, and I showed up with eight 8x10 photos of a show I had done for my Cover the Walls exhibit. No name, information, and nothing that was nearly as incredible as some of the Cover the Wall exhibitions are. I remember tacking up my photos, looking at everything around me, and thinking, "Man, maybe I did this wrong."
Then I was walking around the Expo, and I saw all these amazing things and all of these amazing people who make what I love to do happen and who have found they love to do it, too. 
It was through USITT that I met Brackley Frayer who got me involved in community performance and Theatre for Social Change. It was through USITT that I learned how vast our world could be.
Being a part of the Young Designers' Forum in 2017 reminded me of being that little upstart in 2011, tacking up those photos and thinking how cool everything was. Looking back, I could see the growth. I knew people and things, and I felt like I was a part of something, which, at the end of the day, is part of why I started doing what I do from the very beginning.
Suggest a USITT Member for the Spotlight!
If you know of USITT members whose work should be in the Spotlight, please feel free to suggest them. Contact Jenn Shuron at jenn@usitt.org.