News & Notices
Major Funding Initiatives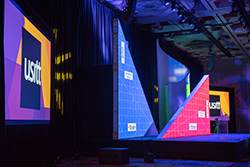 USITT recently announced an unprecedented funding commitment of $500,000 toward new innovation research grants and to increase the impact of some of the Institute's most important programs: Rigging Safety in schools, and the Gateway Diversity & Inclusion Initiative.
Rigging Safety Initiative at Schools Across America
USITT is investing an additional $85,000 in its Rigging Safety Initiative, which provides stage rigging inspections and safety training at no cost for secondary schools across America. In its first five years, RSI has already improved stage safety at more than 120 secondary schools impacting the safety of more than 150,000 students.
Gateway Diversity & Inclusion Initiative
The Gateway Program will receive $85,000 to help expand the reach of this diversity and inclusion initiative. Launched in 2014 to create mentorship opportunities for students from underrepresented populations within the industry, Gateway offers funding for young people to attend the USITT National Conference and meet with professionals in the industry.
Innovation Research Grants
USITT is also investing $330,000 over the next six years in Innovation Research Grants, which will sponsor research projects addressing technology challenges faced by the entertainment industry. USITT has offered grants for more than 30 years, but has never before seen this level of funding.
USITT's Innovation Grants are one of the many ways we are making an impact on the entertainment design & technology community today and into the future. These grants are being developed to help investigate solutions to some of the challenges of our industry and pave the way for new technology to impact our art. As the details of the program continue to develop, what will be announced in March will allow the most significant impact on research through USITT in many years.