News & Notices
In Memoriam: Richard L. Arnold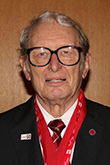 As a kid growing up in Ames, Iowa, Dr. Richard L. Arnold probably never dreamed the life that lay before him would turn out like it did.
He was a farm kid whose father died when Dick was 7. After Frank Brandt, drama teacher at Ames High School, introduced him to the theatre, Dick's life took an unexpected turn. He attained bachelor's and master's degrees from the University of Iowa, where E.C. Mabie pioneered the theatre program. There Dick met, and was mentored by, Arnold Gillette and a young Walter Dewey, both professors of design.
When he graduated in 1951, Dick became a "temporary instructor" at the Iowa State Teachers College. He was encouraged by Hazel Strayer and Herber Hake to excel as a designer, professor, and student mentor. New at teaching theatre, Dick learned from these visionaries. He repaid their generosity by paying it forward to his students at Fresno State and Northern Illinois University. Former students remember him as "…a beautiful mixture of teacher, leader, advisor, mentor, and friend."
Dick took an active role with a young USITT. Beginning in 1965, Dick took on several Institute roles and duties: founding member and Chair of the Midwest Regional Section; member of the 1968 Conference Committee, the USITT Board of Directors, the Executive Council, and the Finance Committee; Chair of the Silver Anniversary Committee; and President of USITT. He was made a Fellow of the Institute in 1977, and received the Joel E. Rubin Founder's Award in 1987 and the Lifetime Member Award in 1996. He authored "Scene Technology."
What really excited Dick most was serving on the Grants Committee and being a member of the Archive Committee. Both harkened back to his early experiences with the pioneers of the industry. The Grants Committee gave him the opportunity to support those who looked to the future of theatre. He always enjoyed talking with Stan Miller on the Expo floor about new products or discussing with his two sons (my brother, the engineer, and me) about new technology and how it might fit into theatre production. Working in the archives gave him the chance to honor those who brought the Institute and the industry to where it is today. Dick linked together the stories of those who made great contributions to theatre and loved to introduce students to the senior members of USITT.
In the end, I think Dad felt his life was rich beyond what he ever had hoped it could be. He worked in and contributed to an industry he truly loved. He had many friends whom he valued and who valued him. He had many grateful former students who credit their own success to him. He traveled around the world, including visits to every continent.
Finally, he had a loving family, including two grandsons, he was most proud of. That is all any of us can hope for.