News & Notices
Board of Directors Elections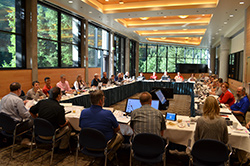 The USITT Nominations Committee is pleased to present the following candidates for election to serve on the Board of Directors. Each of the members nominated for a Board position is running for a three-year term.
Ballots were sent electronically on Nov. 1 (members without email addresses will receive a paper ballot by mail).
USITT members current as of noon, Eastern Time on Nov. 1, 2016 are eligible to vote in the 2017 election. The deadline to cast your vote is Dec. 10, 2016.
USITT's directors shape the future of our organization – it is critical that all members participate in the election process, by doing so you invest in the future of the Institute.
Shan Ayers: "I believe that the Institute should continue its current mission of providing support for educators, professionals, manufacturers, vendors, and students through all of its current means; publications, the Annual Conference & Stage Expo, regional programs, and sectional conferences."
Tom Burch: "I understand, first-hand, what USITT can be as an advocate for the industry, as a connector of people and ideas, and I seek election to the Board of Directors in order to give back to an Institute that has already given and guided me so much."
Pinky Estell: "I believe that my service to the institute as a member of the Board will give me the opportunity to give back to the organization that has solidified the success of my career."
Mickey Henry: "I would like to continue working with this passionate group to further this organization into its 3rd act by representing you as a member of the Board of Directors."
Bryan Huneycutt: "If USITT is shaping the culture and the habits of blooming artists, organizations like Disney, Cirque du Soleil, NBC-Universal, Paramount Pictures, and a multitude of others will see an even greater benefit of partnerships with USITT development programs and allow the organization to grow its outreach even more."
Rafael Jaen: "As a Director, I will continue to bring passion and enthusiasm to the organization by promoting programming opportunities involving students, early career members, and newcomers."
Elynmarie Kazle: "I would like to provide continuing service to the Board of Directors, not only as a stage manager, production manager, and educator, but because I want to support the industry and my colleagues in the continued innovational training of future leaders."
Karen Maness: "USITT is in a unique position to honor and document our industry's achievements, while elevating our members through education, investigation, and networking, in the rapidly changing landscape of the entertainment arts."
Shane Kelly: "I'm seeking re-election to another term on the Board of Directors of USITT in order to take the knowledge I have gained over my first term and use that to help advance USITT further along the important issues that face the industry currently."
Michael McNamara: "I have always been impressed with the wealth of knowledge that is available through our membership and how professional networking opportunities can further careers."
Patrick Rizzotti: "I intend to champion the importance of early career professionals continuing to participate, learn, and give back to all the facets of USITT. I hope to strengthen this relationship by using my broad network of professional resources and associations within the live entertainment and television industry."
Deb Sherrer: "I believe that I can bolster an underrepresented voice on the Board and offer a perspective that aligns with the needs of many USITT members. I also believe that, in our commitment to represent everyone in the industry, a younger voice needs to be present as well."
Todd Studebaker: "If elected I hope to help develop better open communication between the National Board, the Commissions, the Regional Sections, and the Student Chapters."
For full candidate statements, click here.