News & Notices
Call for Fellowship Proposals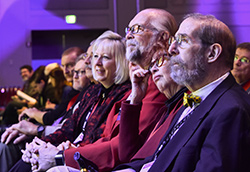 USITT is dedicated to actively promoting the advancement of the knowledge and skills of its members. Each year, the Grants & Fellowships Program awards $20,000 to $30,000 to members pursuing research in their fields – alternating each year between grants to fund research projects and fellowships for personal study. This year USITT is seeking applications for fellowships. Proposals for the 2017 round of USITT fellowships are being accepted through January 15, 2017.
Any individual, professional, or organizational member in good standing for the last 12 months may apply for a fellowship. Fellowships are awarded for excellence in scholarly activities related to advanced study in the areas of performing arts, design and technology. Proposals for USITT fellowships must have a coherent theme, should generate important scholarly or creative activity that will produce a significant result, and may be funded in amounts up to $15,000. Next year's fellowship recipients will be recognized at the St. Louis 2017 Annual Conference & Stage Expo.
Click here for program guidelines and application materials. Questions about the process can be directed to Elizabeth Lewandowski.
How does USITT fund these fellowships? Most of the funding for grants and fellowships comes from the Edward F. Kook Fund, with monies from the Kook Endowment, the Tri-Annual Art Auction and Garage Sale, and individual and corporate donors. Established in 1978, the Kook Fund is sustained through membership donations. Anyone who wishes to help continue this mission of the Institute can contribute a tax deductible donation here or call the USITT office at 800-938-7488.
Grants and fellowships are often supplemented by additional funding from USITT's annual budget. Because recipients are required to share research through TD&T articles or presentations at the Annual Conference & Stage Expo, all members of the Institute benefit.