News & Notices
Member Spotlight: Ramona Ward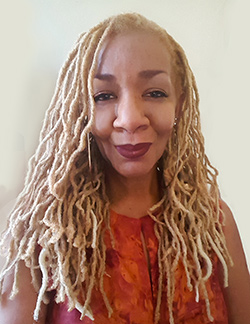 Artisan, designer, educator, and creator of USITT's 2016 holiday card.
USITT: What sparked your passion for costuming?
Ramona: My mother is an artist and an educator and when she would be sewing I would use her scraps to make Troll doll clothes then Barbie doll clothes. I wasn't really looking to costume design, but I had already picked up that skill as a child and because I'm an artist as well, a graphic artist and a visual artist—for me it was really more about creating something from nothing. Just like magic, we create something from nothing. Who knew? I had no idea when I was designing different looks for my dolls that I was training for something I'd be doing years later.
Do you have a style of design that you're drawn to?
I have a distinctive style. Everything is very bold with a lot of pure color. I make a lot of statements, huge statements!
What is the biggest challenge you've faced?
I think in general my only challenge comes with having enough time to get to the point where I'm satisfied with the design. I very rarely use the first thing I think of. It has to evolve and I have to have time for it to become what it really needs to be. When I get to that point I can tell when it's ready for me to share or to have someone critique it. That's my internal process, that's the difficult part. Once I am settled on an idea or design, I have to work through many versions until I get what I'm really feeling.
What has costuming taught you?
I think the most important thing to remember is that you're telling a story and all of the elements—the visual aspects, the technical, the actors, their interpretations—are all parts to help tell the story and that is where I work from—from being able to help define and refine and let the actor evolve into the character through the costumes. It's important to acknowledge that this is not your personal platform to exhibit your work, and yet you are part of a bigger picture that helps to tell the story.
How has USITT played a role in your life?
It is rejuvenating on a personal level because the chance to attend a conference is a breath of fresh air. You get to see people you haven't seen since last year and you're exposed to new technology, new ideas, conversation, and things that you can take back with you. There has never been a time when I have not come away with some new information, a new way of doing things, a new contact or supplier, or some kind of new material to use. There's nothing like USITT. It's great for me and it's been beyond excellent for the students that I bring. It has opened up so many opportunities for them. I mean real work and employment in the industry just from their being able to attend. It has been an eye opener for students and a wealth of information for me as an educator.
Final Thoughts?
When I first started coming to USITT I could count on two hands the number of people of color. Over the years it has grown and we're seeing Asian, Native American, Latino, more African Americans, and young people as well of those of different cultures which is beyond exciting. Theatre should have no color barrier and the work that we do should tell all of our stories, not just some stories from a particular perspective. Getting them to see that they are included in this big picture of techs who work in theatre has been really eye opening for them. Now that there are more people of color, a door has opened for them and they come back energized. That it has become more inclusive has been the biggest change that I've seen over the years in attending USITT.
Suggest a USITT Member for the Spotlight!
If you know of USITT members whose work should be in the Spotlight, please feel free to suggest them. Contact Lynne Dundas at lynne@usitt.org.