News & Notices
Award Winners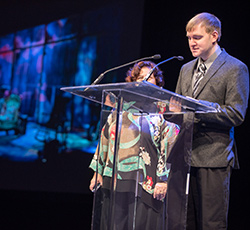 USITT is proud to recognize 2017 winners of these USITT and publication awards.
DeGaetani Award Winner: Peter Sargent
"Design and theatre is not about egos or one-person's singular success. Peter instilled in me the notion that our art form is not about one designer, one actor, or one director. It is about the collaborative effort and our abilities to work together as artists to solve problems, rise to the occasion, and transport our audiences." -Jeff Behm
Rising Star Award Winner: Bryce Cutler
"Bryce's work always provides bold visual statements about the script at hand. He understands the value of research and takes the time to understand a text thoroughly in order to develop inventive designs. His analysis is exhaustive and the research inspires the exploration of a wide variety of ideas." -Dick Block
Golden Pen Award Winner: John E. Bowlt
Russian Avant-Garde Theatre: War, Revolution and Design. Edited by John E. Bowlt. Nick Hern Books (2015 UK, 2016 U.S.) This book will be available in the USITT bookstore at USITT 2017.
Herbert D. Greggs Award Winners: Sandy Bonds and Susan Tsu
"Costume Design Gets Its Due." Sandy Bonds and Susan Tsu Winter 2016: 12-20
Herbert D. Greggs Merit Awards Winners: Christianne Myers, Stephen Hitchcock, Matt Lathrop
"Devised Theatre: An Ancient Story, a Uniquely Modern Space." Christianne Myers 52.1 Winter 2016: 22-31
"Supersized Video." Stephen Hitchcock, with project lead and co-author Matt Lathrop 52.3 Summer 2016: 10-23
Award winners will be honored at USITT 2017 in St. Louis. Please look for more details on the winners in a future issue of Sightlines.