News & Notices
Travel Grant to Help Designer Study Opera in Hong Kong
Costume designer Lauren Gaston, a second-year MFA candidate at the University of Missouri-Kansas City, is the recipient of the 2013 USITT Student International Travel Grant. She will receive $1,000 to help her travel to Hong Kong this fall to study Cantonese Opera design.
Lauren plans to spend a month at the Hong Kong Academy for Performing Arts assisting with future productions, seeing performances, and "immersing myself in the culture," she wrote in her application.
The USITT International Travel Grant program helps students and professionals travel to other countries for research and study in theatre-related fields. It offers a $1,000 student grant in odd-numbered years and a $2,500 individual/professional grant in even-numbered years. Applications for the 2014 professional grant will be available this fall.
Several students applied for the 2013 grant. Lauren's is specific – a month-long immersion in "the world's premiere training program for traditional Cantonese Opera," she wrote. Unlike many student designers, she already has worked on three continents; Asia will be the fourth. She has designed costumes for theatre productions in London and operas at La Musica Lyrica in Italy, and assisted with costumes and production at New York's Metropolitan Opera.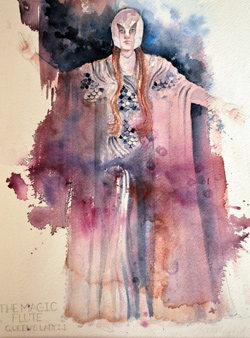 "Lauren is one of the most professional students I have ever had the pleasure to work with," UMKC Costume Design Professor Lindsay Davis wrote in her letter of recommendation. "When her Magic Flute project was submitted to the Hong Kong Academy of Performing Arts, her sketches were chosen as the construction project for their advanced costume construction class. Can you imagine? A whole set of costumes made simply because of their unique, imaginative beauty?"
She will stay with a former UMKC professor now at HKAPA, Sarah Oliver, who has offered housing and a chance to help design costumes for the academy's spring opera productions. Experiencing and understanding traditional Chinese opera will help her and her university share a perspective that is international and "non-Eurocentric."
"I hope this momentum will continue to lead me to more international opportunities in my costume design career," she told USITT. "Nothing excites me more than learning about art and life through the eyes of another culture!"