The Last Word:
Student Board Mentorship Program – An Opportunity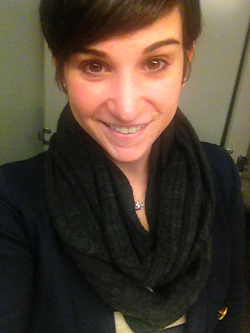 I heard from the grapevine there was a new mentorship program forming in USITT in the area of arts administration. Hurray!
Why am I so happy? I grew up as a stage manager, living and breathing backstage, so the business side of the arts has always been an interest of mine.
There are a few of us "special" theater souls who get hit by the theatre management bug and want to become the future leaders of the entertainment industry. The only way to really understand if this is the side of the business to be a part of is through shadowing today's professionals and seeing their day-to-day responsibilities.
This new mentorship program is one of those ways.
For the first time, USITT is offering a program which focuses on the importance and structure of a board. What is a board you might ask? Basically, it is composed of the "deities" of a theatre or organization. They help shape and oversee the functions of the organization in conjunction with the executive director.
The board is an influential group which comes with a variety of skills from different backgrounds. Anyone who has ever sat in on a production meeting for a show knows it is the time when all the areas can get together and update each other on their progress. Boards are a bit similar to a production team except each member is constantly thinking of ways to continue the success of a theatre. In short, it is a tough job but always filled with dedicated people.
This board mentorship program focuses on the board structure of USITT, how it functions, and the responsibilities that come with being a board member. This is an opportunity for students, who have attended annual conferences eager to be more a part of and learn about USITT, to gain knowledge and be exposed to a variety of leaders coming together to focus on the mission. It is also an opportunity for students who are interested in learning more about what a board does and its importance to any nonprofit organization.
So, for theatre geeks like myself who have found themselves with the theatre management itch, I urge you to take advantage of this mentorship program with USITT. You just might find yourself wanting to be a part of some organization's board some day and bring your expertise to the table.
Brooke Feldman is a master's degree candidate at Indiana University. While an undergraduate at Syracuse University, she was an intern at the USITT National Office in Syracuse.