News & Notices
Apply for an Elite Experience!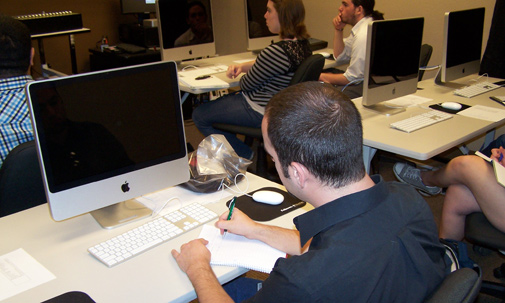 Two years ago, Andrew "Drew" Carter was one of 32 students in the first USITT Elite Training program at the Cirque du Soleil Training Center in Las Vegas. He spent three intense days learning automation on Cirque's equipment, shadowing Cirque staff, and touring behind the scenes at Cirque shows, including KÀ and Mystère.
USITT is offering that chance to 32 more student and early career members for its third Elite Training class May 9 through 11. The Institute will accept four groups of eight people to train in sound, multi-media, rigging, and automation at Cirque. Applications are due April 1.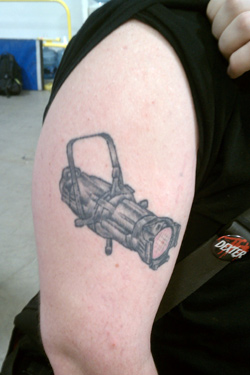 Participants must pay for their own travel, housing, and some meals, but the three days of training – and a couple of free lunches -- are provided by top-notch sponsors: Cirque, Meyer Sound, Stage Technologies, coolux, Columbus McKinnon, and Silver State Wire Rope.
"Elite Training connects student and early career members with the types of equipment they should be prepared to work with as they enter the field; equipment many schools can't afford," says USITT Executive Director David Grindle.
Drew was an undergraduate lighting major at Central Washington University when he took Elite Training in automation. In the blog he wrote about the weekend, he excitedly described learning eChameleon software and the Nomad automation control desk from Stage Technologies Training Manager Alex Hitchcock, shadowing the front of house control booth operator for KÀ, and touring amazing sets -- including "one of the biggest set pieces I have ever laid eyes on," an 80-foot-wide, 30-foot-tall amusement park that "in all its huge glory is actually flown for storage!"
He earned his BA last year and is now technical manager for the Performing Arts Center at Texas A&M University. He said he still values the connections he made and lessons he learned at Elite Training.
"It helped me broaden my training background from just lighting to much more," he said, "The experience was like no other."
In his blog two years ago he noted "For the past three days, Cirque du Soleil and USITT have taken myself and 31 others on a chance of a lifetime.

"Students, I urge all of you to apply for next year's Elite Weekend," he wrote. "Fill out the application and apply, apply, apply!"