News & Notices
Midwest Tech Olympics Continues to Attract Young Participants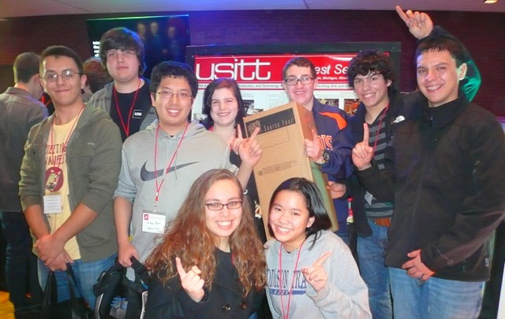 It was 14 years ago that the Midwest Regional Section began sponsoring the Tech Olympics at the Wisconsin High School Theatre Festival. Building on the success of Wisconsin's T.O., and with the input and guidance of ETC's Ellen White, the Tech Olympics was started at the Illinois High School Theatre Festival in January of 2003, making this past January the eleventh Illinois festival, the eighth year at the Indiana Thespians State Conference, and the fifth year at the Michigan Educational Theatre Association/Michigan Thespian Festival. Tech Olympics at the Kennedy Center American College Theatre Festival (KCACTF) continues each year as well.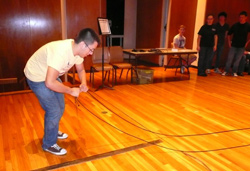 One of the most encouraging aspects of each of the Tech Olympics/Tech Challenges ist that the individuals from membership, educators, and other technical theatre practitioners volunteer their time and expertise. There are numerous theatrical suppliers, dealers, and manufacturers in the region who donate material, swag, and necessary equipment for the T.O. to run. A special "thank you" goes out to ETC for donating Source 4's to winning teams and to the Midwest Regional Section for purchasing Tech Olympics T-Shirts.
The Wisconsin T.O. was held at the University of Wisconsin-Stevens Point November 17 to 19 in an Arts Center Drawing studio, which was right in the middle of all of the festival's happenings. Thirty-two high school students made up the seven teams who competed in five "regular" events including hanging a light, sound system set up, knot tying, sewing a button, and prop shifting.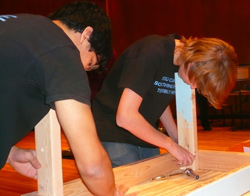 A new event this year, sponsored by The Acme Corp of Milwaukee, was Watt's Up? Two teams had perfect scores and judges had a hard time determining the winner. Acme provided an amp meter for first place and a multi-meter for second place.
Dominican High School's "Black Team" held onto its title for the third straight year, with Neenah High School taking a close second for the third straight year. With the help of volunteer students from UW-Stevens Point all of the events ran smoothly.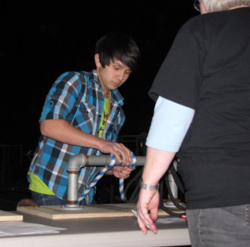 Tech Olympics took place during the Michigan Thespian Festival on the campus of Saginaw Valley State University November 30 through December 1. The events included hanging a light, sound system set up, knot tying, and prop shifting.
The Region 3 KCACTF Tech Olympics also took place at Saginaw Valley State University January 8 to 12. Thirty teams of two participated along with about 100 observers.
First place went to Corey Boughton and Zach Kentala of Flint University. Jess Hammersly and Michael Maurer of Michigan Tech, took second place. Adrian College's Jeffrey Clark and Emily King came in third.
The best scores in each event went to
Knots - Indiana State University: Natalie Capucci and Nolan Engels
Lighting - Michigan Tech: Jess Hammersly and Michael Maurer
Set/Carpentry - Northern Michigan: Charlie Jauguet and Jalina Olgren
Props - Oakland University: Daniel Robinson and Adam Mitchell
Sound - Concordia Chicago: Justin Glombicki and Rebecca Eifert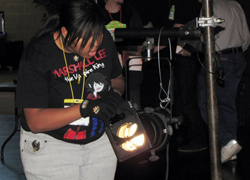 The Illinois High School Theatre Festival took place January 10 to 12 on the campus of the University of Illinois-Champaign. There were 90 competitors from 15 high schools. Events included light focus, wiring a pin connector, costume quick change, Nicopress, sound system set up, and knot tying. To keep events fresh and to surprise past participants, two different events were included this year -- legging a platform by bolting/unbolting legs and cable coil relay where four 25-foot DMX cables were laid out and had to be correctly coiled.
Top team honors went to Addison Trail High School. Second place went to Oak Park & River Forest High School.
In Indiana, the annual high school Tech Olympics was held January 26 at the Red Skelton Performing Arts Center on the campus of Vincennes University. This year, the event set another record with 76 students fielding 19 teams from 13 different high schools across the state.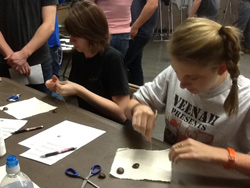 The events this year were lighting a geometric shape, props quick change, knot tying, cord coiling, and fold a curtain as a team event. Many undergraduates from the staff at the Red Skelton PAC served as judges. Adults who were instrumental in making this come off flawlessly were Ellen White and David Del Colletti, both Midwest Regional Section members, plus Randy Riggs and J.R. Hermsdorfer from Indianapolis Stage Sales & Rentals. Ms. White, representing ETC, and Mr. Hermsdorfer, owner of Indy Stage, donated prizes for both team and individual awards.