News & Notices
Arbor Day USITT-style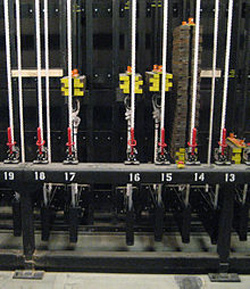 Help USITT celebrate our 2013 Arbor Day Campaign for the Rigging Safety Initiative.
More than 35 secondary schools have been awarded support to cover Inspections of their school rigging systems AND a four-hour training on safety and proper use of that system.
In a world of tightening school budgets, we all know that tough choices mean some things get financing and some don't. Rigging systems are out of sight to most and thus out of mind. But we all know that these systems involve wear and tear and failure can be catastrophic.
These inspections, done in states across the nation, aren't just to the benefit of arts students. In many schools, such as the Baldwinsville Central Schools in Upstate New York, the auditorium is used by every school in the district. By providing inspection and training for one theatre, the Rigging Safety Initiative improved the safety for over 5,000 students.
Through our participating partners providing services at or below cost in some cases, we are limited only by the amount of money in the fund. With your support, we will be able to say "YES!" to every school that applies.
Take a moment and make a difference in the safety of school children everywhere with your Arbor Day Gift.