News & Notices
Announcements
Electrons and Costumes DO Mix
USITT's 2013 Costume Symposium on the campus of Rochester Institute of Technology will give participants a chance to find out exactly how to incorporate lights, sensors, motors, and el-wire into costume and costume pieces.
Wearable Technology, hosted by Marla Schweppe and presented by Jeanne Christman, will provide illustrated, step-by-step instructions and assistance for the entire process.
To learn more or to sign up, visit here. Special student rates and scholarships are available.
Siriani Reaches Out to Help More USITT Members Save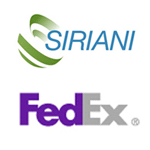 In 2012, the USITT Freight Savings Plan saved USITT members $12,767. The average savings for USITT members participating in the program was $365. At the 2013 Annual Conference & Stage Expo, Siriani greeted old friends and reached out to show more members how to reduce their inbound and outbound shipping costs. USITT members can save up to 27 percent on select FedEx Express shipments (includes a 5 percent electronic shipping discount) and up to 15 percent on select FedEx Ground shipments. Join the free USITT Freight Savings Plan today and start saving! For more information, call Siriani at 1-800-554-0005.
SUNY-Purchase to Honor Abramson
The Broadway Technical Theatre History Project at SUNY-Purchase will honor scenic artist Arnold Abramson with the second annual "Backstage Legends and Masters" award 7 p.m. Monday, April 22, in the college's Performing Arts Center, 735 Anderson Hill Road. It is free and open to the public.
Dan Hanessian, the professor who launched this program last year, is a member of USITT.

One of the past century's most influential scenic artists, Mr. Abramson painted more than 600 Broadway production sets, including the original The King and I; My Fair Lady; 42nd Street; Annie; Hello, Dolly; Sunday in the Park with George; Camelot; Sweeney Todd; The Sound of Music; Evita; Cats; and Bells are Ringing. He began his career in 1950 and joined United Scenic Artists Union Local 829 in 1951. He worked for several years at Triangle Studios before joining Willie Nolan and Charlie Bender as Nolan Scenery Studios moved from lower Manhattan to Brooklyn in 1961. Mr. Abramson later became owner of the studio. After moving to Florida in 1991, he continued his career with Studio South and Coconut Studios before retiring in 2012.
Standard Public Review Synched with Plugfest
BSR E1.33 - 201x, Entertainment Technology—(RDMnet)—Message Transport and Device Management of ANSI E1.20 (RDM) over IP Networks is available for free download and review on PLASA's TSP public review webpage. The public review period is an unusually long one, ending May 15, so that it will be open during the RDM and sACN Developers Conference and Plugfest April 25 through 27. Product developers working through Plugfest may turn insights from that event into public review comments.
The Conference and Plugfest will be at Gatwick Manor, London Road at Lowfield Heath near Gatwick Airport in the United Kingdom. More information is available at www.plasa.org/rdm. Inquiries should be directed to PLASA's Technical Resources Manager, Ron Bonner, at ron.bonner@plasa.org.
BSR E1.33 - 201x describes a way to implement ANSI E1.20 Remote Device Management messaging over an IPv4 network. The primary use of the standard would be to complement ANSI E1.31 on an entertainment lighting control network. Downloading and commenting on this standard is free. More information about BSR E1.33 and the public review is available from PLASA'sTechnical Standards Manager, Karl Ruling, at karl.ruling@plasa.org.